Historic Fairmont Royal York Receives Zero Carbon Building Certification
November 15, 2023
KingSett Capital and Fairmont Royal York announced today that the landmark hotel in Toronto, ON has received the Canada Green Building Council's (CAGBC's) Zero Carbon Building – Performance Standard™ certification. This $65 million project was completed after close to five years of detailed planning and execution. It will reduce over 7,000 tonnes of carbon annually or 80% of the hotel's annual carbon emissions, the equivalent of taking 1,558 cars off the road.
Jon Love, Founder and CEO of KingSett Capital, said, "Fairmont Royal York's decarbonization demonstrates the potential to complete a large and complex project in a way that is environmentally impactful, socially responsible and economically viable. It is a compelling example of what can be accomplished through collaboration, innovation and creativity. For KingSett, this investment highlights how decarbonization can strengthen a key asset in our portfolio as part of our sustainability and value enhancement strategy."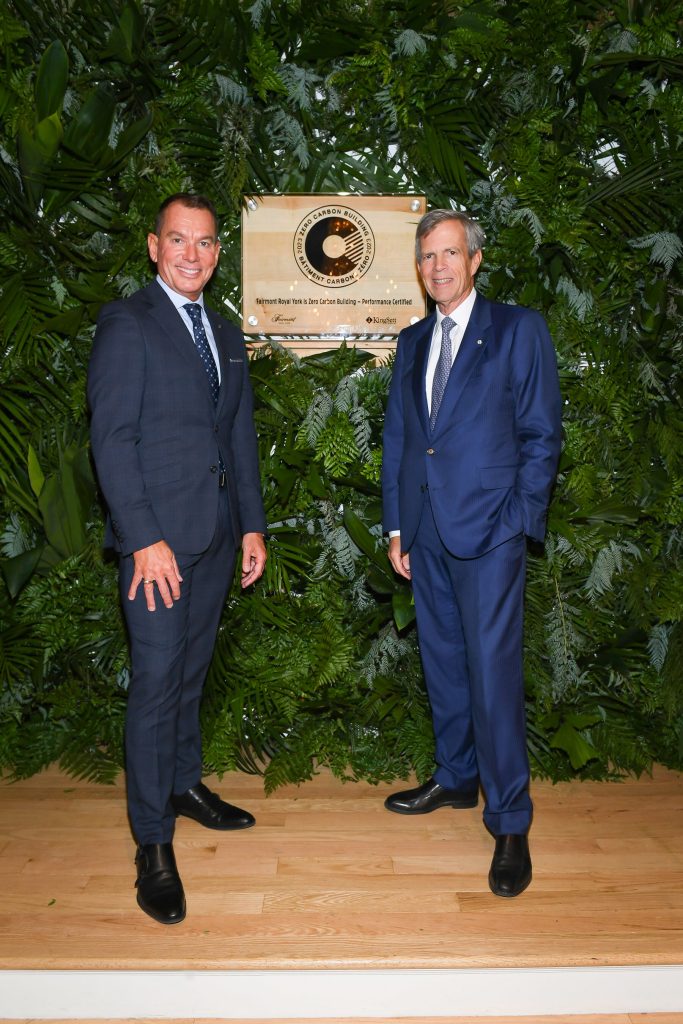 "This complex project would not have been possible without our strong partnership with Fairmont Hotels & Resorts, the Canada Infrastructure Bank (CIB), PCL Construction, and Enwave Energy Corporation," added Mr. Love.
Edwin Frizzell, Regional Vice President, Central Canada and General Manager, Fairmont Royal York, said, "Fairmont Royal York achieving zero carbon certification is another transformative step in repositioning this unique icon in Toronto's downtown core. Decarbonizing a 94-year-old heritage building and retrofitting the hotel's energy systems to be highly energy efficient was a complex challenge. We've proven that it can be done."
"Our valued clients and partners with similar corporate sustainability objectives will benefit from access to hotel rooms and meeting and event spaces aligned with our focus on creating genuine experiences and implementing long-term sustainability actions that deliver results," added Mr. Frizzell.
This decarbonization project represents the largest heritage hotel retrofit of its kind within the Fairmont global brand portfolio and offers a definitive roadmap for creating sustainable energy sources for similar properties.
With its unparalleled location in Toronto's financial district and close proximity to Union Station, the hotel's decarbonization initiatives make it the ideal partner for both leisure travellers and major businesses to align their sustainability goals when booking conferences, events, and guest room accommodations. As a destination committed to the local community, Fairmont Royal York employs over 1,200 colleagues and hosts 1.5 million guests annually, while championing the global brand's sustainability efforts for diversity, equity and inclusion.
In addition to achieving the CAGBC Zero Carbon Building – Performance Standard certification, the hotel has a broad range of other sustainability initiatives. These include eliminating single-use plastics for guests, reducing food waste with AI technology and donation partners, and supporting the local ecosystem with 500,000 honeybees from the hotel's rooftop garden and apiary. These initiatives complement recent renovations to Fairmont Royal York's lobby, guestrooms, Fairmont Gold offering, award-winning dining venues and event spaces and enhance this destination's global consumer appeal as a world-class luxury hotel in Canada's financial centre.
Fairmont Royal York achieving the annual CAGBC Zero Carbon Building – Performance Standard certification demonstrates how partnership between the private and public sectors can meaningfully accelerate action towards meeting Canada's carbon reduction commitments. The project was supported by the CIB's Building Retrofits Initiative, which provided $46.5 million in debt financing.
The Zero Carbon project advances KingSett's sustainability strategy and leadership in the Canadian real estate market while adding strength and resilience to one of KingSett's key assets. It adds to KingSett's broader decarbonization strategy of decarbonizing over 5.4 million square feet of Canadian real estate, reducing 35% of carbon emissions over 2019 baseline by 2027 in its core fund.
Additional Details
The Fairmont Royal York decarbonization project will remove over 165,000 tonnes of carbon emissions from execution in 2023 to 2050.
The reduction of carbon emissions will generate over 35% of utility savings in the first year.
All spending and project impacts were independently verified through the CAGBC's Investor Ready Energy Efficiency (IREE) certification program.
All carbon emission reductions will be independently monitored and verified annually by a third party as required by CIB and CAGBC.
The building's path to the CAGBC's Zero Carbon Building – Performance Standard certification was achieved by:

Detailed study and analysis of building energy load, seeking to effect meaningful efficiencies,
Converting heating and domestic hot water from steam to electric heat pumps that utilize heat recovery from Enwave's district energy network,
Converting cooling from electrical/chillers to Enwave's Deep Lake Water Cooling system, and
Significantly improving energy efficiency with a centralized building automation system and smart technologies.

The project has employed over 70,000 hours of labour, creating valuable job opportunities for skilled workers and showing how environmental responsibility and economic benefits can work hand in hand.