Jose Renteria Earns IDEAL® National Championship Title During Eighth Annual Competition for Electrical Apprentices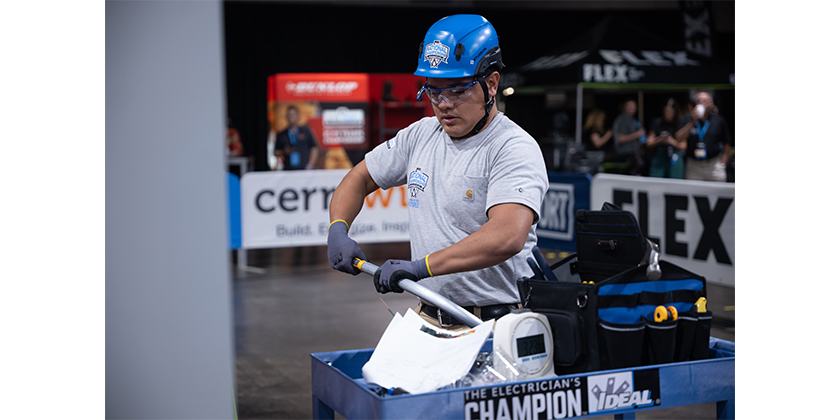 November 9, 2023
IDEAL Electrical™ is celebrating the newest winner of the 2023 IDEAL® National Championship and $40,000 cash prize as Jose Renteria, an electrical apprentice from Elk River, Minnesota, took home top honors in this year's competition.
The eighth annual super-charged competition invited 10 of the top qualifying electrical apprentices from around the country to compete at the Elite Trades Championship Series in Tampa on Friday, Oct. 27. This year's IDEAL National Championship event required apprentices to complete two scoped projects evaluated for accuracy, workmanship and safety. Projects covered an exterior service installation and a workplace electrical buildout including a sign, downlights, and an electric vehicle charger. 
Renteria, who currently works for Muska Electric in Minneapolis, Minn, is soon planning to take the state test to become a licensed electrician and continue to the master electrician test. The brand-new dad also hopes to open an electrical shop of his own one day.
"My approach to the competition was to do it right the first time and forget about the time. I wanted my work to look good and professional. It was still stressful and fun at the same time," said Renteria. "Being an electrician is a good-paying career and I still get to go home to spend time with family and friends. I also appreciate that I can work on my own at home and apply my ideas to personal projects."
This year's IDEAL National Championship theme of "Wiring Better Futures" honors the emerging apprentice talent and the impact this generation of tradespeople will have on the industry. According to the Bureau of Labor Statistics, the U.S. currently needs about 80,000 new electricians every year and more than 1 million more electricians to meet the nation's goals as a massive shift to electrification continues.
"The wiring for the electrification of North America and beyond is truly in the hands of current and future apprentices. We already know how rewarding it can be to work in the skilled trades, and this competition gives thousands of curious students a close-up look at what goes into a typical day. It's equally important for them to see how committed master electricians are to mentoring apprentices and giving back," said Carmen Cardillo, General Manager of IDEAL Electrical, North America. "Jose's ability to prioritize quality, safety and workmanship in these workplace projects that had to be completed during a truncated high-stakes challenge is impressive – and he still completed the work. This goes to show how valuable our emerging apprentice talent will be to our communities."
HGTV star Chip Wade and PBS's Scott Caron emceed the event. Each electrical apprentice was paired with one of five professional electricians and former IDEAL National Championship competitors Greg Anliker, Noreen Buckley, Tom Kennedy, Anthony Kovalchick and Roman Ryszewski. The top 10 finalists earned their spot by completing a rough-in electrical wiring challenge at one of four 2023 regional trade shows.
The top five finalists in the student challenge included:
Emma Becker, Denver, N.C. 
Devin Slifer, Greenup, Ky. 
Jose Renteria, Elk River, Minn. 
Jake Tribby, Beaver, Oh. 
Dino Gualandri, LaSalle, Ill. 
Final Results:
1st Place ($40,000) – Jose Renteria (Elk River, Minn.) 
2nd Place ($20,000) – Dino Gualandri (LaSalle, Ill.) 
3rd Place ($10,000) – Devin Slifer (Greenup, Ky.) 
The 2023 IDEAL National Championship Finals event in Tampa can be viewed on the CBS Sports Network at 7:00 p.m. CST on December 8, 2023. Live streams of all the rounds of the 2023 IDEAL National Championship are available to watch on the IDEAL Facebook page.