Southwire and Resideo Announce Agreement Related to the Sale of Resideo's Genesis Wire & Cable Business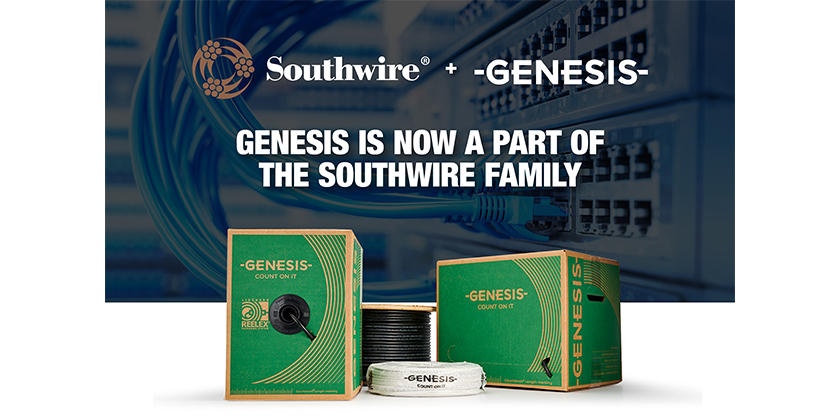 September 22, 2023
Southwire Company, LLC, and Resideo Technologies, Inc. announced a definitive agreement for the sale by Resideo to Southwire of its Genesis Wire & Cable business, a leading low-voltage wire and cable manufacturer based in Pleasant Prairie, Wis. The transaction is anticipated to close in the next 30 days, subject to customary closing conditions. 
Genesis is a leading U.S. low-voltage cable manufacturer, providing critical connection for a wide range of residential and commercial applications, including comfort, security, network and communications, entertainment, and fire and safety. The company serves a broad set of distributors, dealers and professional contractor customers.
"The sale of Genesis is an exciting step in our ongoing work to optimize our product portfolio by divesting a non-core asset and sharpening our focus on our long-term strategy and margin goals," commented Jay Geldmacher, Resideo's President and CEO. "We are pleased with the value realized for this non-strategic asset and we continue to explore value creation opportunities across our Products & Solutions portfolio."
With 187 employees, Genesis manufactures approximately 70% of its products in-house and purchases the remaining 30% as finished goods ready for distribution from other third-party manufacturers.
"We're excited to welcome the Genesis Cable team to Southwire," said Norman Adkins, COO at Southwire. "The company's expertise in low-voltage wire and cable production will be instrumental as we continue to expand into new and emerging markets, especially within the Security and HVAC sales channels."
For more information on Resideo, visit www.resideo.com.