EngWorks Release New Course: Hazardous Area Classification Application Software and Training Course for Explosive Gas Atmospheres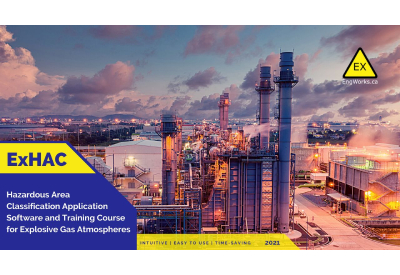 November 26, 2021
The ExHAC has the ability to predict key parameters required for a classification design including compressibility, polytropic processes, vapour pressure and the group classification and AIT of flammable mixtures.
To ensure competence in classifying hazardous areas, EngWorks provides a TOTAL solution with the ExHAC Hazardous Area Classification Application Software and Training Course for Explosive Gas Atmospheres. The ExHAC bundle comes with the ExHAC software, the training course, and an embedded licensed copy of the IEC 60079-10-1 Ed. 3.0 standard.
The online Web-based ExHAC software and training course provides an excellent tool at your fingertips, anytime and anywhere you need to perform a classification design.
Go HERE for more information