GREEN BUTTON®: What You Need to Know, A Virtual Educational Series from ERTH Academy, Summer 2023
June 28, 2023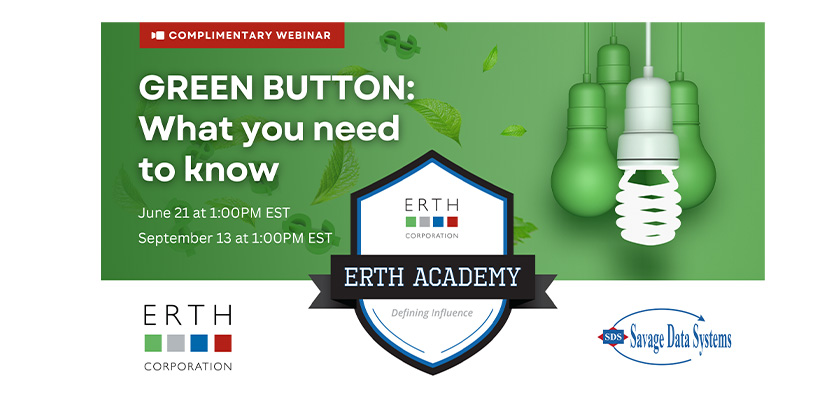 As part of their new ERTH Academy virtual education series, ERTH and Savage Data Systems will be hosting two additional complimentary webinars in 2023:
Session 1: Wednesday, June 21 at 1:00PM
Session 2: Wednesday, September 13 at 1:00PM
Duration: 1-hour (45min presentation, 15min Q&A)
In partnership with Savage Data Systems, ERTH Corporation invites any and all staff working in the Ontario utility industry to join ERTH for a complimentary ERTH Academy webinar titled "Green Button: What You Need to Know."
While Green Button data has been a hot topic in the Ontario utility industry for the past 12 months, there is a varying level of knowledge and understanding amongst utility staff.
In this webinar, Todd Ross, Director of Customer Relations at ERTH Corporation, and Ron Savage, President of Savage Data Systems, will provide attendees with a general understanding of the Green Button initiative and its history, the benefits of Green Button data, and the implementation process.
Who should attend?
Utility team members, including department managers, CSRs, billing clerks, back-office staff, communications professionals, and other employees who are looking to gain a basic understanding of the initiative, how it works, why it is being implemented, and how it will benefit energy consumers and utilities.
Registration:
Session 1
Wednesday, June 21 at 1:00PM
Register Now
Session 2
Wednesday, September 13 at 1:00PM
Register Now
GREEN BUTTON and the Green Button Logo are registered trademarks owned by Departments of the U.S. Government.