SaskPower's Mike Marsh: A People-Centred Approach to Leadership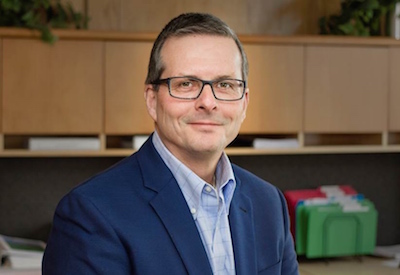 August 15, 2017
By Scott Williams
Mike Marsh, President and CEO of SaskPower, has been a leading figure in Saskatchewan's electricity industry for almost 25 years. Joining SaskPower in 1991, Mike began his career in engineering and maintenance. He spent the next two decades playing a key role across a number of business functions, taking the helm as President and CEO in 2014.
During Electricity Human Resources Canada's most recent awards ceremony, then-board chair Norm Fraser described Mike as "a great leader with a fair and amicable way of engaging with people, having strong labour relations skills from years of experience at the bargaining table. As a proponent of health and safety, Mike possesses the necessary experience to support and lead the industry forward." These comments formed the basis of CEW's conversation with Mike.
Do you believe that awards like this are useful for the industry?
They are. Our industry has so many hardworking people, and it's good to be recognized by your peer group. The more we recognize people, the more we build confidence in the things that we're doing.
What personal growth challenges and opportunities stand out for you in your career?
Prior to joining SaskPower, I spent 12 years in the construction industry. I was in a small office and didn't have any people reporting to me, I was working on various projects but not having to lead groups of people. Then I moved to Boundary Dam* and started in the engineering department in there, I guess it was my ability to work with and communicate with people — from tradesmen to the plant manager at the time. Within a year I was promoted into a maintenance supervisory position. It was something that I felt nervous about, but when I stepped into it, my first rule was to provide for the people. I realized I had an ability to talk to them in a way that was respectful. I didn't know I had that ability.
When you're starting to manage more and more people, doesn't this become a bigger challenge?
It certainly does. It's about being genuine, and making sure people understand your true intentions, and building trust in the workplace. As a leader, you have to make tough decisions. But that doesn't mean that you have to be demanding and authoritative. You can deal with difficult situations in a way creates trust and confidence.
Have you had any role models or mentors along the way?
There have been a number of folks. Two come to mind right away — a colleague and coworker at Boundary Dam. In the early part of my career, Lane Hutton was a maintenance supervisor, and I looked to him for advice and direction. His approach wasn't "Do this, do that." It was more like, "Well, have you considered this? Have you thought about that?" Having different perspectives on an issue is what helps leaders grow as they encounter new experiences in the workplace and in life.
The second important person in my SaskPower career was Rick Patrick, a former vice president who I came to know and work for over the years. Very knowledgeable and confident in the industry. As I was growing and getting to understand the business, he encouraged me to take calculated risks on certain things. That was another very important learning opportunity, when you're encouraged to make decisions and take risks, and try to move the organization forward.
What kind of risks?
Making decisions about organizational alignment. For a number of years I was involved with the HR department for all the generation business units — dealing with people issues and facilitating resolutions to conflicts. I started to assert my opinion more. In an environment with a strong hierarchy, sometimes that can be a risk in itself.
Have you had opportunities to be a mentor?
Oh, yes. We have a leadership development program here at SaskPower, and over the years I've mentored employees who have come through that program. Then there is the informal approach — the open door concept. I have always encouraged employees to come and talk to me. While it can be challenging in terms of time management, I try to make sure that anyone who requests time gets time. Last week I had a young engineer come to talk with me about his role and his future. Just trying to understand where he could move his career.
Is this part of SaskPower's culture?
I believe it is. We encourage openness and collaboration. Trying to build trust inside an organization so that you can get the most out of an engaged workforce is very powerful for a company. Knowing that everyone in leadership has their back and is willing to talk to them, that's a powerful motivator for a workforce.
On SaskPower's website, safety is the first value listed. Is safety a priority for you personally?
Yes, I am engaged at many different levels in safety issues and programs. I've been involved in safety directly throughout my career. We've had very good people working with our field divisions, whether it's in generation or transmission distribution, to improve our safety culture and safety performance. We continually try to raise the bar to increase safety awareness, and encourage workers to be conscious of safety at all times.
We have a motto here: "Although we work on dangerous equipment, we do not do dangerous work." Think about the hazards associated with the job, plan the job accordingly, then do the work. If it's done according to procedures and with the proper safety equipment, you will have a positive outcome.
Mental well-being is emerging as a major workplace issue. Is this happening at Saskpower as well?
Yes. We recognize that mental health is a significant contributor to things like productivity. It certainly affects the ability of employees to be in the moment and have a good situational awareness when working with hazardous equipment. It's all part of being engaged in the work that they're doing.
How does the organization encourage that?
We're always encouraging our staff out there to take that extra few minutes and think about the job at hand. Don't move quickly into doing a job that could have a hazard that has not been properly identified. If you can identify the risks, you can identify the proper mitigations and perform the job safely. Nothing is worth an injury or potential loss of life.
How do you see the industry changing in the next 10 years?
I think the movement towards a lower carbon future is going to impact the electric industry in a very significant way. It's certainly accelerated the path that we were already on. The transportation sector alone — electric vehicles, electric trains — is really going to help shape the electrical grid of the future. The amount of data we're now collecting that we can utilize and share with our customers is remarkable compared to a decade ago. Integrating renewables will transform the electrical grid in North America.
I would think relationships with customers are also changing quite a bit.
Oh, they are. More information and data are available to all types of consumers. There is a growing expectation of having that information available, as well as other services to help customers monitor and manage their energy consumption. As an industry I think we're moving quickly.
The advent of social media is also changing the way we communicate with people. It's not just one-way communication anymore. Just like how the electric grid is changing. It's morphing into a two-way system, where electricity can come into the system from any location and can be used at the source or pushed back into the group. What we see in the next 10 years to 20 years will be amazing.
In your personal down time, what's your favourite place?
I would have to say my and my wife's favourite place is our cottage in northern Saskatchewan. It's that place that you go to relax and unwind. The smell of pine trees, and water…
We try to get there as often as we can over the summer… mostly weekends. If I can get away for a couple of weeks in the summer, that's where we'll be with our grandchildren. On the boat, kayaking…
How easy is it to detach from work when you're on holiday?
We always stay connected through the Internet, but I try not to engage. I will read emails but won't necessarily respond. Otherwise, you get drawn into the conversation.
What would you tell a young person starting a career, whether it's electrical or not?
The biggest thing is, don't be in a hurry to get somewhere. We have a lot of young people with energy and creative ideas, working hard and providing a valuable contribution to the company. But in many cases, I think they expect to move into senior leadership roles within a very short period of time.
Life goes by fast, and my advice is to enjoy it while you're here. Be positive, make a positive impact on those around you, and contribute to the goals of your work unit, even if it's not your ideal destination.
At the end of the day, those moments and experiences will be the ones that you remember, and will bring you the most satisfaction.
Scott Williams is Associate Editor of EIN.
* Boundary Dam Power Station, located near Estevan, Saskatchewan, consists of two 62 net MW units (decommissioned in 2012-14), two 139 net MW units, one 139 net MW unit, and one 273 net MW unit. It is also the site of a carbon capture and storage demonstration project.