Sean Freeman: Master Electrician and Technician Delegate for the Red Cross ER Unit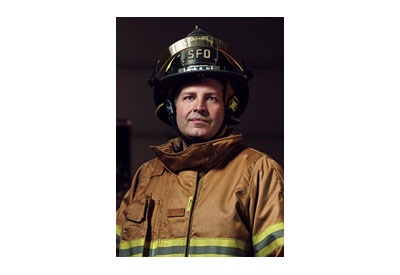 Dec 18, 2017
By Owen Hurst
Sean Freeman is a vibrant, enthusiastic and selfless individual who has taken his trade expertise beyond that of a traditional career. Besides being a master electrician, but he has travelled around the world as an electrical technician delegate with the Red Cross Emergency Response Unit. His skills are a vital part of emergency response and disaster relief.
In 2013 Sean responded to Typhoon Haiyan in the Philippines. In 2014 Sean spent almost a month in Kenema, Sierra Leone working at an Ebola treatment centre. There he was responsible for ensuring electricity and clean water were available, and worked to strengthen the facility's infrastructure. And in 2015 he responded to the earthquake in Nepal, where he maintained the upkeep of a field hospital, arranged supply shipments, and helped with local technical training. He has also worked with SNC Lavalin in Kandahar, Afghanistan.
Besides being a Master Electrician, Sean also has a diploma in business administration and marketing from Mount Royal College and an emergency medical responder certificate from the Southern Alberta Institute of Technology.
EIN recently had a chance to ask Sean about his career and the experience of working as a technician delegate with the Red Cross Emergency Response Unit.
Tell us a little about yourself.
I live in Strathmore, Alberta, just east of Calgary. Family is a big part of my life with parents, brothers, sisters, nieces and nephews in the area. I have a daughter, four, who keeps me jumping as well. I am a senior firefighter with the Strathmore Fire Department and a technician delegate with the Canadian Red Cross. As for hobbies, I have had motorcycles, love the outdoors, and building things around the house and for my daughter.
What got you into working in the electrical industry initially?
I started working as an electrician apprentice in 2001. I wanted a trade and found this trade to suit me best. With many friends in the trade I explored opportunities and found work with Techmation Electric & Controls to start my apprenticeship.
Tell us a little about the work you have done in the industry.
After a couple of years as an oilfield electrician, I briefly returned to close out some business concerns, and then spent the rest of my apprenticeship as a commercial and industrial electrician. As a journeyman I spent time in Toronto in commercial and controls until I took a job at Exclusive Alarms as an electrician, and where I learned more about fire alarms and the inspection and emergency service. After a few fantastic years there I found myself using this and completing CFAA (Canadian Fire Alarm Association) certification while working on a Canadian Forces base in Kandahar, Afghanistan, as a maintenance electrician and fire alarm tech. Later I worked as an industrial electrician for Burnco, and as of late have been working on commercial, fire alarm, and residential projects while splitting the balance of time with the Town of Strathmore Fire Department and the Canadian Red Cross.
How and why did you get involved in working with the Red Cross and the ERU Team?
I loved the challenges and adventure of international work, and the opportunity of the ERU team with the Canadian Red Cross came up, with all of what I love to do.
What does being a member of the ERU Team entail?
Being a member of the ERU team means that I must keep current my trade certifications that apply, master electrician and first aid. To join the team, we take training with others on the ERU team — doctors, nurses, specialists, admin, and logistics. The experience we bring — the ability to operate in unconventional situations, in other countries, with other cultures, with electrical equipment and materials from all parts of the world — makes for effective team members.
What is the protocol when you are called to respond to an emergency?
We are notified by text, by phone call, and by mail. We are asked to commit to an immediate deployment, or in a month, or at a later point in the deployment. We must have permission from our work, and our families and other obligations to make this commitment. Deployments are generally a month or so, and our lives must go back to where they were when we return.
Would you share a short story or two about your response to an emergency?
As it relates to contracting, so does it relate to the wishes of the team lead in requests. On every mission I have been asked to power up a building, structure, or anything else resembling, especially if it had a light bulb in it somewhere, at some time. We discuss priorities and what is possible with whatever is on hand or available. We discuss what is safe and sustainable. The best decisions are always made as a team, and my experience is required to put forth the best options and solutions.
I have been lucky enough to troubleshoot tents, toasters, Chinese oxygenators, European generators, African buildings, Nepalese water distribution systems in a remote town on the side of a mountain, and once, at three in the morning, a water pump in the Philippines from my bed in Strathmore. All these things have a story that goes with them, and memories made. Happily, a resolution was found in each case.
What is the best part about being able to respond and participate in protecting people in the event of an emergency?
Without a doubt, the best part is knowing that what you are doing, what your team is bringing, and what Canadians have sent with you is making a huge difference in the lives of people going through the toughest times of their lives.
How do you stay ahead of the continuing technology and trends in the industry? And has new technology hindered or aided in your ability to act in emergency situations?
I take ongoing training in disaster services, Red Cross training, and electrical trade upgrades. I have recently taken a course in solar PV and design, Canadian Electrical Code updates when they come up, and I talk with suppliers and manufacturers about what is available and what is coming.
Generators are getting lighter and more fuel efficient, power distribution systems are becoming more standard for portable power, and once energy storage is less bulky and more robust, I think we will see deployable solar PV generation and storage. All these things make a field hospital and other aid missions easier, cheaper, and faster to deploy and operate.
How vital is it for someone like yourself to be part of a team of variously skilled individuals when responding to an emergency?
I have been lucky enough to work with some of the best individuals in their specific fields. By giving them a dependable, manageable, flexible platform to work from, they are able to do what they are best at. Great teams produce great work. It inspires me to keep up and do my part.
If you could give any message to Canadians, or others who have the potential to help the way you do, what would it be?
Everyone can help in some way. For me to help the way I do, I have a strong family that supports what I do. Personal resolve and getting the job done are very important. I love to take the skills I have and apply them to ERU deployments. The things I learn from around the world have use when I work in Canada, and the Canadian electrical trade skills are very useful to the ERU team. Excellent troubleshooting comes from experience, the more practice, the better at it you get. I never stop learning.