Wind Power in Canada: An Update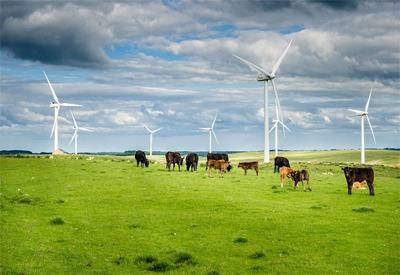 July 30, 2018
Wind energy is one of the fastest growing sources of electricity generation in the world. In fact, we counted in 2017 more than 52,500 megawatts (MW) of new clean and reliable wind power installed in more than 90 countries, including the world leaders of China, the United States, Germany, India, Spain, the United Kingdom, France, the Brazil, Canada and Italy. Wind energy generates clean electricity, creates jobs and stimulates the economic development of communities across the country.
Canada is now a leader in wind energy, ranking ninth in the world for installed power. With the growth of this industry, costs have fallen — by 67% since 2009 — making wind energy one of the most affordable modes of electricity generation. The number of facilities built in the country in the last decade surpassed that of any other source of electricity, and installed power increased on average by 15% per year between 2012 and 2017.
Wind power fills about 6% of the country's electricity needs, sufficient energy to power more than 3 million households. The country has 295 wind farms in service, from coast to sea, including two of the three territories.
Wind energy, or how to build a more robust, cleaner and affordable energy system
Wind energy in Canada in numbers
• Current installed capacity: 12,239 MW
• Wind farms: 295
• Wind turbines: 6,415
• Current percent of Canada's electricity demand met by wind: 6
• Wind energy is producing enough electricity to power over 3 million Canadian homes
• Global ranking for total installed capacity: 9
• Average amount of wind energy installed annually in Canada between 2012 and 2017: 1,159 MW for an average annual growth rate of 15%
• Investment in 2017: about $800 million
Wind energy's social and economic benefits
• Host communities are realizing significant economic and social benefits through new municipal tax revenues, plus stable income for farmers and landowners from land lease agreements.
• Wind energy is creating new high-value jobs, providing employment opportunities for local trades-people and contractors as well as full-time permanent jobs once the wind farm is operational.
• Wind energy projects bring direct investment in the form of contracts for materials and services and infusion of dollars to local businesses.
• Developers are establishing innovative ways to provide additional social and economic benefits and support community partnerships (e.g. voluntary Community Benefits Program / Community Vibrancy Funds).
• Community Liaison Committees are being established in developer communities to create a foundation for meaningful dialogue, while supporting an atmosphere of public trust and confidence between the wind energy developer and community.
• The Canadian wind industry produced the Best Practices for Indigenous and Public Engagement guide to improve and strengthen industry practices as wind energy grows across Canada.
Did you know
• According to the Alberta Supply Chain Study, the Alberta government's Renewable Electricity Program will drive $8.3 billion of investment in new wind energy projects in the province. These projects are expected to result in $3.7 billion in local spending and 15,000 job years of employment by 2030.
• The wind industry in Quebec employs 5,000 full-time workers, whose average annual salary is 30 per cent higher than the Quebec average.
• According to Secor-KPMG, in ten years, the development of the wind industry in Quebec has led to $10 billion in investments, an annual wealth generation of $473 million and annual tax revenues of $75 million to the Quebec government. Thanks to the wind industry, Quebec municipalities can count on $25 million in annual revenue in addition to the return on investment for municipalities that financially participate in projects.
• $25 million was invested into the community of Wolfe Island in Ontario during construction, and royalties to landowners, tax payments, operation and maintenance expenses and ongoing local economic benefits add up to an another $3 million a year…
Source: "The Secret Is Out: Wind Is In," CanWEA, https://canwea.ca/wp-content/uploads/2017/11/canwea-secretisout-brochure-en.pdf