Charging Solution Makes Condominium in Historic Outremont EV Ready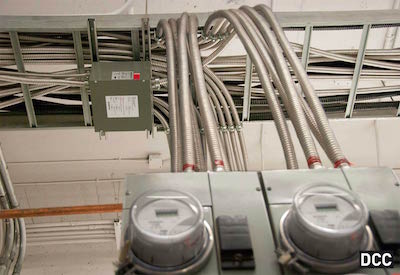 Mar 25, 2019
DCC-9-BOX, a new charging solution, debuted in an Outremont condominium making it the first building of its kind ready to host electric vehicles at every interior and exterior parking stall. Originally built in 1913, this building in Montreal's exclusive Outremont neighbourhood was residentially transformed in 2013, and now hosts 23 units and 26 parking stalls.
The project was made possible by an ambitious administration board searching for a global charging solution for all available parking spots, versus case-by-case installations. The mandate was to guarantee a minimum charging capacity of 240 V/ 40 A to each owner, avoid overloading the existing electrical system, and — above all — remain affordable and scalable.
"In a double majority vote, 97% of condo owners voted in favour of the project. They understood that this common charging infrastructure would bring additional value to the property and give the building an edge," says Christophe, the condominium board member leading the electrification project.
Owners were given the choice between a complete DCC installation or a partial DCC-9-BOX installation. The average cost, comprising installation, labour, and materials, was $3,000, whereas a partial installation was $2,000.
Additionally, FLO chargers were supplied to owners already owning an electric vehicle. The installation process was entirely managed by the condominium, motivated by the added financial and aesthetic benefits of a sole installation plus the increase in property value.
In an initial survey, with a completion rate of 77%, 76% of homeowners reported that they did not foresee owning an electric vehicle within the next three years.
"Residents fully understood that a common, uniform, installation really reduced the amount of cables needed and protects the building's existing electrical infrastructure. This is the exact reason as to why we're launching the DCC-9-BOX," says David Corbeil, President and Co-Founder of RVE.
About the product

DCC-9 is a device designed to fully support the installation process for electric vehicle charging in multi-unit homes. These devices directly manage the energy consumption between the home and the EV charger, avoiding the common energy supply. DCC-9 is compatible with any electric vehicle charger. DCC units are UL Listed and CSA certified, and are manufactured in Canada by Thermolec, a leading supplier established in 1973.
DCC-9-BOX is the basic installation required to allow an upgrade to DCC-9.
About the building
Originally built in 1913, this building was residentially transformed in 2013, now hosting 23 units and 26 parking stalls.