Residential Sector Drives 3.8% Increase in February Building Construction Investment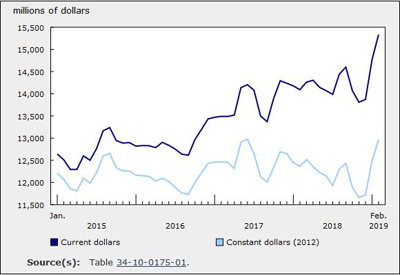 May 5, 2019
Total investment in building construction increased in February, up 3.8% from January to $15.3 billion. This increase was primarily due to investment growth in the residential sector (+5.4% to $11.0 billion), while the non-residential sector remained unchanged at $4.4 billion. On a constant dollar basis (2012=100), investment in building construction rose 3.9% to $13.0 billion.
Investment in residential building construction
The increase in total residential investment for February was driven by strength in multi-unit dwellings (+8.4% to $5.5 billion), while investment in single family homes rose more modestly (+2.6% to $5.5 billion).
The gain in residential investment was primarily due to renovation work, up $1.1 billion from the previous year.
Investment in non-residential building construction
Within the non-residential sector, investment in commercial building construction exceeded $2.5 billion, a record level. This gain reflected a 2.2% increase in Quebec, which was mainly driven by a multiplex sports facility being built in the city of Gatineau.
The industrial component rose 0.7% to $839 million in February. A new marijuana production facility for Canopy Growth Corporation in the City of Fredericton stimulated investment in New Brunswick, up 6.4% for the month.
The national decline in institutional construction investment (-1.0% to $988 million) was due primarily to the continuing decline in investment for maturing hospital projects in Alberta and Ontario. This was partly offset by an increase of $2 million in Quebec, reflecting continued investment in the Montréal Heart Institute.
Source: Statistics Canada, https://www150.statcan.gc.ca/n1/daily-quotidien/190423/dq190423c-eng.htm