Residential Permit Values Down Despite Fourth Consecutive Increase in Single-Family Buildings for August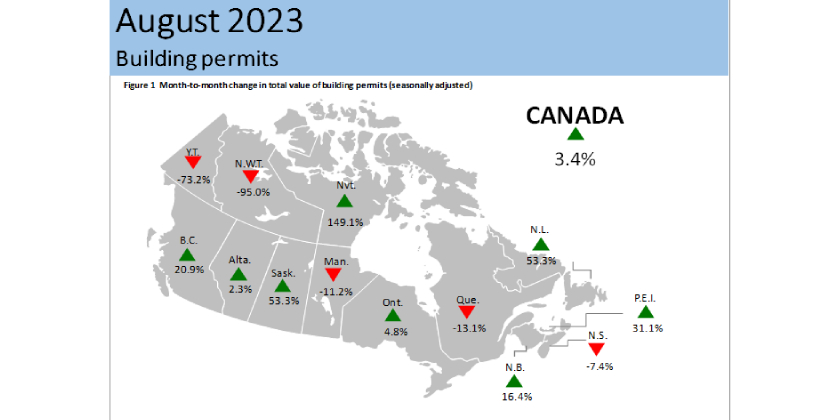 October 16, 2023
The total monthly value of building permits in Canada increased 3.4% in August to $11.9 billion, with strong gains in the non-residential sector offsetting modest declines in residential construction intentions.
On a constant dollar basis (2012=100), the total value of building permits was up 4.3% to $6.9 billion in August.
Residential permit values down despite fourth consecutive increase in single-family buildings
The total monthly value of residential permits declined 3.7% to $6.8 billion in August, led by weaker multi-unit construction intentions in Ontario (-15.8% or -$315.6 million), Manitoba (-44.9% or -$90.3 million), Quebec (-7.9% or -$57.1 million), and Nova Scotia (-27.3% or -$29.9 million).
These declines were partly offset by monthly gains in the value of single-family home permits. Across Canada, this component was up 5.5% to $2.9 billion in August, marking the fourth consecutive monthly increase for this component. This uptick follows a year of trending decline in construction intentions for single family homes from May 2022 to April 2023.
Removing the effect of changes in construction costs, on a constant dollar basis, the value of single-family home permits stood at $1.5 billion in August, still below the average monthly pre-COVID-19 pandemic levels of 2019 ($1.8 billion).
Non-residential construction intention gains led by large permits in Ontario and British Columbia
The total monthly value of non-residential permits rose 14.8% to $5.0 billion in August, with gains concentrated in Ontario (+28.5% or +$503.8 million) and British Columbia (+45.5% or +$326.2 million).
Notably high-value non-residential permits were issued in August for two hospital renovations (in Toronto and North Vancouver), a new university building in Kelowna, a new correctional facility in Thunder Bay, and a new arena in Whitby.