Manygo Ho of AECOM: Keeping Current with Innovation and Regulation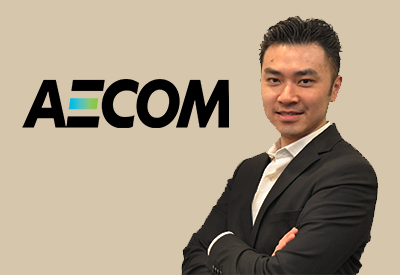 June 5, 2019
Blake Marchand
Manygo Ho is an electrical designer with AECOM's Buildings and Places group. Manygo designs electrical systems "from lighting to power to low tension systems," he noted. Manygo added that he mostly works in the commercial and institutional sectors of the industry, working on schools, recreation centres, libraries, fire stations, and commercial high-rise buildings, "My speciality is with lighting design, lighting simulations, sustainability, and BIM," he explained.
AECOM is a Fortune 500 company operating in 150 countries around the world, employing architects, engineers, designers, planners, scientists, and management professionals. They are a fully integrated professional and technical services provider, which includes design, building, financing, and operating public and private infrastructure assets. AECOM operates in the transportation, facilities, environmental, energy, oil and gas, water, high-rise buildings, and government markets.
Mangyo Ho grew up in Camrose, Alberta before moving to Edmonton to pursue his post-secondary education at NAIT (Northern Alberta Institute of Technology), receiving his diploma in Electrical Engineering Technology.
"At the time, I was fortunate enough to be hired in one of the local engineering firms right after graduation and I've been in the industry ever since," said Manygo.
Manygo explained after working in the industry for a few years he received his C.E.T. certifications with ASET, as well as a LEED AP BD+C certification from the Canadian Green Building Council and the P.L.(Eng.) designation from APEGA.
Manygo grew up with a proclivity towards engineering, "I've always known that I wanted to work in the engineering field. As a young child, I've always enjoyed taking things apart to see how the inter workings are," he said.
Knowing he wanted to pursue engineering, Manygo was ultimately drawn to the electrical discipline over mechanical engineering, "hence my path to an electrical engineering career was paved."
Can you tell us about a project you worked on that you found interesting or unique?
Manygo told LDS one of the more interesting projects he worked on was a 6-storey major renovation project. The job included a full height multi-level atrium space expansion that covered the entire front side of the building.
"The large multi-level atrium space involves numerous layers of lighting types. There are mixtures of high ceiling flood lighting, low level accent lighting, book stack lighting, general recessed lighting, suspended lighting, and a very long track lighting all working together in and around the atrium space. The lighting calculation/simulation was very complicated since the shape of the space contains multiple angles, curves, open structures, stairs, and ramps," explained Manygo. "It definitely had its challenges."
What are some of the challenges associated with your role as Electrical Engineer/Buildings & Places with AECOM? How do address those challenges?
"As a lighting designer, we need to stay up to date with all the codes and requirements set out by different lighting industry standards and governing bodies," he said.
Manygo explained that the introduction of new codes and regulations often pose an adjustment challenge; for example, "The recent adoption of NECB 2017 in Alberta further set forth the limitation/requirements that lighting designers must follow regarding LPD (Lighting Power Density) values, lighting control requirements, daylight harvesting, and receptacle controls. For buildings that are targeted for LEED (Leadership in Energy and Environmental Design) Certified, Silver, Gold, or Platinum, this also brings another set of rules/improvements the designer must keep track of in order to achieve the project goals."
How has the industry evolved/changed throughout your career? What developments with respect to lighting and controls or electrical engineering have had the biggest impact on what you do?
"When I started my career in the electrical industry, the type of lighting that was used was mainly focused on incandescent, fluorescent, and HPS (high pressure sodium) for the work that I've been involved with. Nowadays it's pretty much all LEDs for their energy savings, lumen outputs, dimming capability, and long lifespan benefits."
Manygo added that there has been a shift toward energy efficiency, particularly in Alberta where he operates out of. "The topic of lighting power density (LPD) wasn't as big of a concern in the past in Canada until LEED and NECB (National Energy Code for Buildings) became mainstream."
In Alberta, all new buildings must meet the current NECB requirements regardless of whether it is a LEED building or not. "Lighting designers/engineers must now address the LPD values and lighting controls requirements as well, right from the start," he said, which has an affect on how a space is designed and the lighting control is configured.
"I've been lucky enough to see the transition from using mainstream incandescent and fluorescent lighting to LED lighting," he continued, "It is an industry game changer where 15 years ago, it would be hard to imagine LED lighting would replace nearly all forms of lighting for a typical building and street lighting."
LED lighting hasn't levelled off when it comes to efficiency and improving the technology. "I find that LED technology moves so fast that there are always newer chips and newer designs of light fixtures coming out," Manygo noted. "Modern luminaires take advantage of the small footprint of LED chips and their colour changing properties like RGB (red, green, blue) LEDs," which result in "previously unimaginable shapes, sizes, and colours."
Are there any technologies or trends in your industry that may not be so prominent now but will have a greater influence in the next five years or so?
When it comes to trends in the industry, lighting controls remained unchanged for many years before really taking off in the past 5-10 years. Along with technological advancements, the industry has really taken off from a regulatory perspective with standard requirements like NECB, LEED, ASHRAE (American Society of Heating, Refrigerating and Air-Conditioning Engineers), and WELL. The WELL Building Standard provides guidelines that minimize the disruption to the body's circadian system in order to enhance productivity, support sleep quality and visual acuity.
With respect to new technologies, Manygo said that he can see human centric lighting becoming more prominent in the marketplace, "I can see that the implementation of white colour tuning technology in light fixtures may be more widely used once costs come down and more people are made aware of this technology and the benefits concerning circadian rhythm," he said.
"Another item that has caught many people off guard is the requirement of plug load controls, where in Alberta, Canada, it is not widely implemented yet. As we move forward and adopt the latest energy code, the new requirement may affect some people on how they use the plugs or at the least be mindful of whatever is plugged in will also be shut off automatically."
Plug load is a term used to characterize the electrical loads plugged into all the outlets in a particular building. When electronics and appliances are plugged in they consume energy even when not turned on. Minimizing this consumption can play a major role in energy efficiency. For example, plug loads account for around 33% of the electricity consumed by commercial buildings in the U.S.
Anything else you would like to add with respect to your opinion/observations on the industry in general?
"On the lighting controls side of things, we need to keep educating ourselves and the clients on what minimum requirements are in order to meet all the current codes and regulations. It is no longer a simple on/off switch for the majority of spaces and will likely require some form of automatic lighting controls."
Blake Marchand is Assistant Editor, Panel Builder & Systems Integrator.