Ouellet Electric Heating: A Local Company with Global Aspiration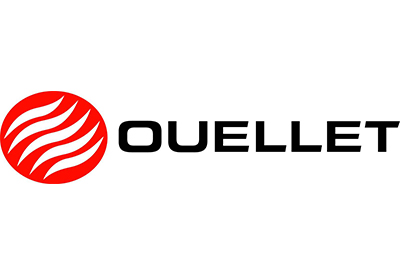 Aug 2, 2019
By Blake Marchand
Ouellet Electric Heating began humbly in 1960 with Charles-Emile Ouellet, who started manufacturing residential hot-air heating equipment out of his L'Islet home workshop. Over 50-years later Ouellet is still headquarter out of L'Islet, Quebec, designing, manufacturing, and distributing electric heating products. The company realized its potential, becoming one of Canada's largest electric heating firms under the direction of the Beaulieu family.
Raymond Beaulieu and Robert Beaulieu joined the company in 1971 as shareholders, helping foster Ouellet into the industry leader it is today. In 1987 they expanded their sales into the U.S, in 1991 they expanded into all Canadian provinces, and one year later they would begin exporting internationally. Louis Beaulieu, son and nephew to Raymond and Robert, currently serves as General Manager. Louis joined Ouellet in 2009. His brother Martin, current President and CEO, joined in 1986 and Philippe joined in 2003. In 2008 they took over from their father as shareholders.
Louis noted that Robert and Raymond initially ran a small electrical contracting firm, however, once they got involved in the manufacturing sector they didn't look back.
"Now," said Louis 50-years later, "the 3rd generation of the family is in charge and pushing the business even higher."
Their company's success has been marked by their penchant for innovation, as well as their firmly established distribution network, which allows them to get their products where they need to be, when they need to be there. A crucial aspect to any business, regardless of expertise. It's that combination that has empowered Ouellet to become one of Canada's largest companies in the electric heat industry.
Ouellet's products range from residential, commercial, and industrial heaters to thermostats and controls. They also provide specialized custom services to their professional clientele, while their distribution network has an international reach.
Electrical Industry Canada had the opportunity to table a few questions for Mr. Beaulieu to gain some insight into the home-grown family business.
Can you tell us a little bit about your team?
We strongly believe in promoting from within. Most of leadership team started their career with us and have a deep understanding of customer centered culture.
How has your business evolved or changed since its inception, has the business had to adapt to changing market demands?
Over the last 50 years the business has not only changed in size, but also in market segment. At the beginning the business was mainly a tin bending shop. It evolved to manufacture heating products and now manufactures several products in Canada for several markets across the globe.
Always keeping customer needs at the forefront: speed to market, flexibility and quality have been drivers of our success.
Being a company with a long history, what were some of the challenges to remaining relevant and growing the business?
Our business has always been very competitive, we have always looked at different ways to increase our efficiency, reducing our costs and making sure our product design remains relevant to current market demands.
What are some of the key aspects that have contributed to your success as a company?
Being close to the customer and being able to translate their needs with products that address these needs has been key.
Are there any industry advancements or trends that have influenced what you do?
Our manufacturing flexibility has allowed to respond quickly to a wide array of product needs and allowing our distributors to concentrate on stocking A items.
Can you perhaps highlight some of your more popular offerings and what has contributed to their success?
Our high-end baseboard (ODL-sublime) has met the need of our customer base for an electric board with a modern design.
We're also the first to introduce ductless minisplit system to the electrical channel and this has been a nice addition to our line.
Are there any emerging technologies in electric heating that you see as becoming more prominent in the coming years?
High-end controls seem to be the way of the future with IoT. However, I think we may have to be patient before we see a revolution everyone is anticipating.
What is next for Ouellet?
We are going to continue to invest in our product offering, as we just launched infrared heaters for patio's and we have a few more exciting launches by year end, so stay tuned!!
What is the right question with respect to electric heating? Is there anything my questions don't touch on that is relevant to your company or the industry?
Electric heat has often had a bad rap.
However, it seems that recently with more talk about reducing gas emissions and our carbon footprint, electric heating has a really interesting twist and we are starting to feel it, which is very refreshing for our industry.
Blake Marchand is an Assistant Editor with Kerrwil Electrical Group