Finding Success Through Training, Development and Professionalism with Dan Lacovetsky of Powertec Electric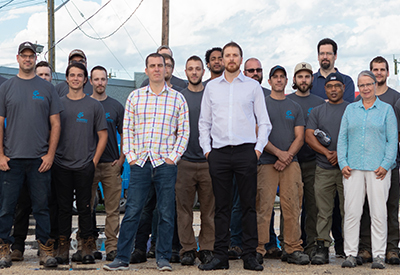 Oct 11, 2019
An electrician by trade, Daniel Lacovetsky is the founder and President of Powertec Electric, an electrical contracting firm operating out of Winnipeg, Manitoba providing a long list of services to the residential, commercial, industrial and solar sectors.
Dan noted that his venture as a business owner began as "a desire to find a better way to do things," and "to create something of value." He said, "Having worked for other companies, I was able to take a look at them and see where their weaknesses were. On the front line you can see where there is room for improvement."
It's not just the work itself, he explained, but how the company is run as a whole. From dealing with customers to managing employees, Lacovetsky said, Powertec does things a little differently. Something that has led them to focus on providing a high level of professionalism and quality customer service. The result is that they have been able to retain repeat customers, "It's pretty rare that we lose a client." Something that comes from "building and establishing relationships and trying to do right by clients, and we've continued to work with many of the clients we've had right from the get-go."
Early on Dan partnered with another electrician and friend, Gareth Williams to form what would become Powertec Electric. At the time they were both working on their own with an apprentice and teamed up. "Both of us have field experience, we come from different work experience but similar life experience," he said, making it an ideal partnership.
A big factor to their success has been their ability to train the majority electricians in house, which often ensures the skillset and work habits are tailored to the type of work Powertec does. "We can't do it with every employee, we need to hire journeymen, too," he said, "but we started by hiring the best apprentices we could find and training them into being quality journeymen, and we still have many of the guys that have been with us since the day they started."

To that end, when it comes to success factors for Powertec, Lacovetsky singles out the company's employees, "As far as I'm concerned we have the best group of employees out there," he said, adding they have cultivated a good mix of skillsets, which includes a lot of young tradespeople. When it comes to "attitude, dedication, ability to innovate, and general intelligence and fitness," he said, "they bring a lot to our company."
Maintaining a focus on fiscal responsibility and diversification among industry sectors is also key. The company's focus in these areas have allowed them to navigate slow periods without having to lay employees off.
Powertec has come from doing small residential and commercial work, developing into a company that takes on million-dollar projects.
Taking advantage of government incentives in the solar industry was a factor in that growth, "that kind of took off, for us," said Lacovetsky, "we we're able to capitalize on a quick market shift, that was huge for us and we've become experts in that field, at least locally," he said.
They work mainly in residential, doing a lot of condo work; small service stations; "tons of solar"; EV charging, Dan noted there isn't much infrastructure in Manitoba right now, so they have been involved in adding to that network; retail – they are currently working on a shopping mall extension; institutional, they are currently working on a new school, which is a first for them. Dan also mention a major project they did for an asphalt plant, as well as a 200kw solar project for a self-storage company that is currently the largest roof mounted solar project in Manitoba.
As Powertec's solar business continues to grow, they have plans to expand. Currently, they have sales teams operating in Ontario, Saskatchewan, and Northwest Territories, as well as a satellite office in Regina. Dan noted it's not fully staffed 100% of the time, but as they continue to grow, they will expand that presence.
In terms of growth, they are getting ready to move into a new facility that will allow them to begin pre-fabrication for projects. Allowing them to streamline their processes and add another level of competitiveness. "Anything where you can build the assembly in your shop ahead of time, when you can build 50 of them on a workbench rather than pushing a cart down a hallway and building 50 in different locations definitely helps with time, effort, accuracy, all of that stuff."
"There's growing pains," he said of their development as a company and taking on large projects, "a lot more management than smaller projects, having two or three people dedicated to them full-times in the office realizing that everything from the accounting to the drawings and approvals requires a lot more hours that aren't actually on-site."
"There's a lot more overhead involved, and the planning process is much more involved than a condo of equal size," he said referring to projects like the asphalt plant or the new school they are working on, "because a condo is the same thing over and over, whereas these are unique, every single room is unique and has its own purpose."
Lighting also presents a great opportunity for Powertec, "advancements in lighting are coming up all the time making things easier for us – that's a big part of our business, replacing lighting systems."
Like EV charging, there is plenty of opportunity for them when it comes to upgrades and retrofits of lighting systems throughout the various industry sectors that they operate in.
With respect to their work in green sectors, Lacovetsky said "this is just the way the future is going. Not just solar, but everywhere in the electrical industry. Generation is one of the biggest polluters out there," he said, so being involved at a grass roots level and contributing to the progression of these technologies is certainly a priority. "Solar power, electric vehicles, distributed generation, micro grids; its all coming [on a larger scale], and we'd like to be experts by the time it gets here. It's our goal to see those trends a head of time and start working with them early."

Powertec has obviously found plenty of success, growing considerably throughout their history as a company. Dan's advice for others looking to strike out on their own was to not get caught up too much on one job or one invoice and ultimately focus on customer satisfaction. One dissatisfied customer can turn into a much bigger loss than that associated with lagging behind on a single invoice. "Making sure you leave your customers happy in this era of online reviews, a bad reputation can follow you for a long time."
"It's a great industry," he noted in closing, "we're attracting some of the best and brightest people into the trades. All the young people that have come to work with us are smart and hardworking," he said, noting that he hasn't had any issues hiring millennials in the electrical trade, "anybody that has stayed with us for any length of time has been as hardworking and dedicated as you can expect."
"I think our industry has a bright future and it seems to be attracting great talent."