Company Snapshot: Con's Electric Company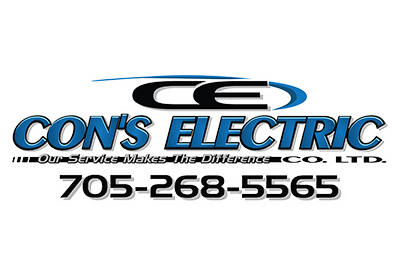 June 17, 2019
Con's Electric Company Limited was established in 1985. Based in Timmins Ontario, only 700 km's north of Toronto, their location is, however, central to the mining and lumber industries in Ontario. They offer over 30 years of experience and continue grow. A two-person operation at their inception, they have grown to a team of over twenty dedicated electricians and support staff. They enjoy the challenges of the construction and industrial workplace and feel rewarded when a job is well done.
Con's Electric Company Limited is a Bonded Company, providing a wide range of electrical needs and is customer driven with services tailored to specific client needs. This ensures that client expectations are always met.
Con's Electric Company Limited is dedicated to a level of quality that will ensure its products and services fully meet the requirements of its customers, at all times. The goal of their company is to always be striving to achieve high level customer satisfaction. They believe in the concept of clients and suppliers working together in pursuing this policy and continually striving for improvements in service quality.
Their years of experience have allowed them to be versatile in the electrical industry. They provide many services to their community and surrounding areas. This includes residential, commercial and industrial services.
Their industrial services have expanded greatly over the last decade, as they have had the opportunity to work with many companies, including Detour Gold Mine. They enjoy facing challenges in their field and hope to continue expanding ourselves Canada-wide and globally.
Over the past 20 years, Con's Electric has expanded significantly in the commercial aspect of the working world. They have been given many opportunities to provide our skills to our local commercial industry. With projects such as Expert Garage they have grown and gained a significant amount of knowledge and understanding of the commercial industry.
Go HERE for more information