RBT Electrical & Automation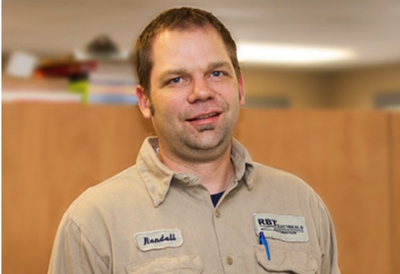 Feb 13, 2019
By Blake Marchand
RBT Electrical & Automation, located in Brantford, Ontario, provides a full service of electrical contracting along with automation and control services in the commercial and industrial sectors. The company serves clients in manufacturing, food production and processing, food service, pharmaceuticals, recycling, and public service/institutional. Randall Koops, General Manager of Automation and Control, took time to answer a few questions for Electrical Industry Canada to tell us a little more about RBT Electrical & Automation.
Randall has been with RBT Electrical & Automation from very early on in its inception, joining initially as an electrical apprentice in 1997. He is a licensed 309A electrician trained in ACAD and PLC with over 25 years of experience in the industry.
What is the history of RBT Electrical & Automation and what do you see in the near future for the company?
RBT was started by Rob Timmerman in the spring of 1997. RBT quickly had three or four employees and focused on industrial wiring. RBT is a full-service electrical contractor, and tackles jobs ranging from design build, lighting, construction, networking, power wiring, machinery wiring, safety upgrades, control upgrades as well as complete control systems for virtually any machine out there. We continue to see growth in the company and that is due to the reputation RBT has earned for doing things right the first time and at a fair cost to the customer.
Can you tell us about your team?
Our team consists of office support staff, project managers ,and all the guys in the field. We have over 25 electricians and apprentices on staff with experience ranging from a few months to multiple decades in the trade. Our company has a vast range of experience from construction, commercial, institutional, and industrial. We also have a lot of experience in food manufacturing. Our team has the experience and know how to tackle any electrical job.
Can you tell us about a project that you found particularly interesting, unique or rewarding?
Last year one of our newer customers had a partial collapse of the roof in the middle of their manufacturing plant. Multiple conduits were damaged beyond repair, yet somehow there were only a couple of damaged control wires that were quickly repaired to allow the plant to remain in production.
The collapse happened right beside the main control system that delivered all the raw material to five production lines, as well as the control of three of the lines. The existing control system was an old AB SLC system with two remote racks. They had no drawings or up-to-date copy of the PLC program, and the wiring was a total disaster. I can remember standing in front of the very large double door main control panel full of drives, contactors, relays, the PLC, and an unbelievable amount of unlabelled wires and looking at 27 conduits all full to capacity and thinking to myself, "Where do we even begin?"
We were tasked with redoing all the damaged conduits without disrupting production. We ended up installing parallel control systems on all the lines and then changing over on multiple weekends. We worked line by line and then finally on the main control system that delivered all the raw material. We completed the job with virtually no disruption to production and the customer now has fully documented drawings and PLC programs, as well as state-of-the-art control systems.
How do you stay ahead of the rapidly advancing technology surrounding automation and controls, or throughout the various sectors RBT operates within?
I do a fair bit of reading online as well as the occasional trade show.
It appears as though RBT has a diverse range of services, of the industry sectors you service. Which do you see having the greatest shift or advancements in the near future?
We continue to see a lot of automation being added to our customers' facilities. Everybody wants to handle product less, get a better product sooner and safer at a lower cost, and then collect data on how they performed.
Is there anything relating to automation and controls that is particularly interesting to you right now?
The part I really like now is how things have become simpler but more complex. What I mean by this is that different components connect easily over simple communication protocols, and you can read or write virtually any parameter you want to the device. Gone are the days of spending large amounts of time in PLC data tables to configure what now is considered a simple device and can be configured with a few clicks of a mouse.
Blake Marchand is Assistant Editor, Panel Builder & Systems Integrator.