Brett Castein and Jordan Pratt of Southwest Electrical Services on the Ideal National Championships Team Event
Dec 20, 2019
By Blake Marchand
Held from November 7th to 9th in Orlando, Florida, and recently aired on ESPN 2, the Ideal National Championships gives electricians a chance to display their skills in a high-level competition. The event expanded internationally for the first time this year — over 55,000 electricians from 5 countries attempted to qualify for a chance to compete in the championship event. Last year's event was the first to feature electricians from outside the United States. For 2019 they increased the number of Canadian qualifiers, and extended the competition to Mexico, Australia and China.
At the championship event 70 professionals and 66 students/apprentices competed. Among those 70 professionals were Brett Castein and Jordan Pratt of Southwest Electrical Services. From St. Thomas, Ontario, Jordan and Brett competed in the team portion of the event under the name True North.
Although they didn't place as high in the competition as they would have liked, the experience was certainly positive for the both of them.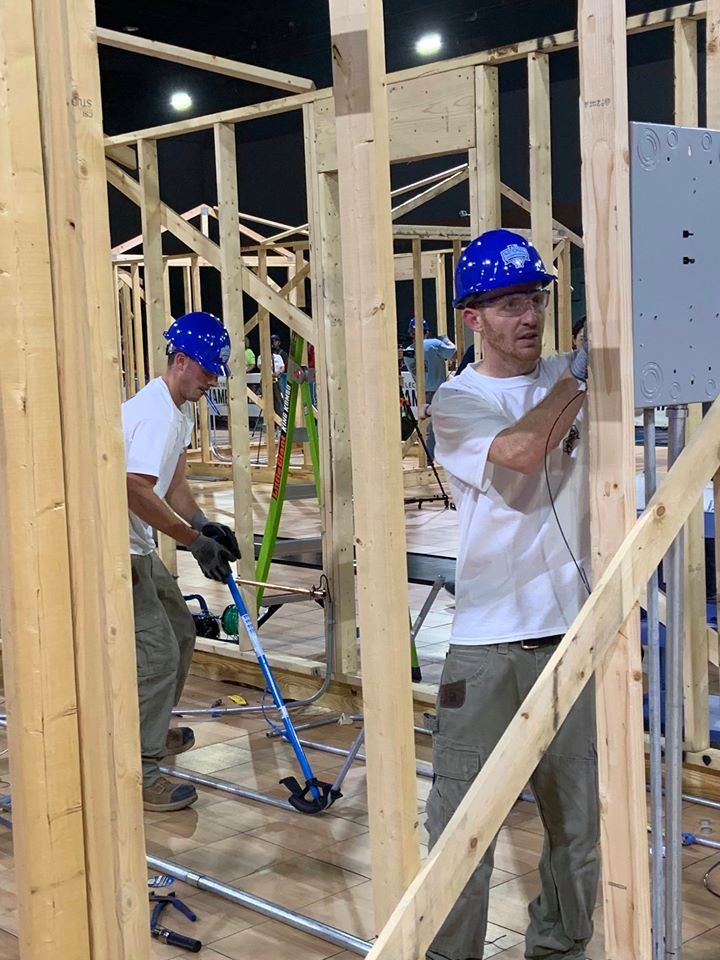 "Overall, awesome experience," Jordan noted, "it gives us something to work towards each year. Makes me want to continue to grow in this industry."
Brett noted that the electrical industry is so varied that it was great to talk with the other competitors about what they're doing, because it provided perspective into other potential opportunities for growth as a professional. "It's nice to branch out and see what else you can learn and do," he said.
"I had a pretty positive experience at the nationals. It has made me want to become a better electrician and broaden my skill set," Jordan said, "My favourite part was watching the top electricians who are very skilled in every part of the field."
Jordan and Brett were introduced to the competition three years ago. They each ended up with the top two times in Canada, unfortunately Canadians weren't eligible that year to go down to the National Championship. This year was their second year competing together as a team.
As for the competition itself, Brett provided some insight into what they were asked to do. "This year it was a little house – they were going to pour concrete as the floor, so we ran a bunch of pipe underneath where the concrete would go then stubbed them up into a whole service from a panel to the meter, did some grounding bonding and a receptacle."
"Our strategy was to start with the things we were confident with, and then tackle the tasks we weren't too sure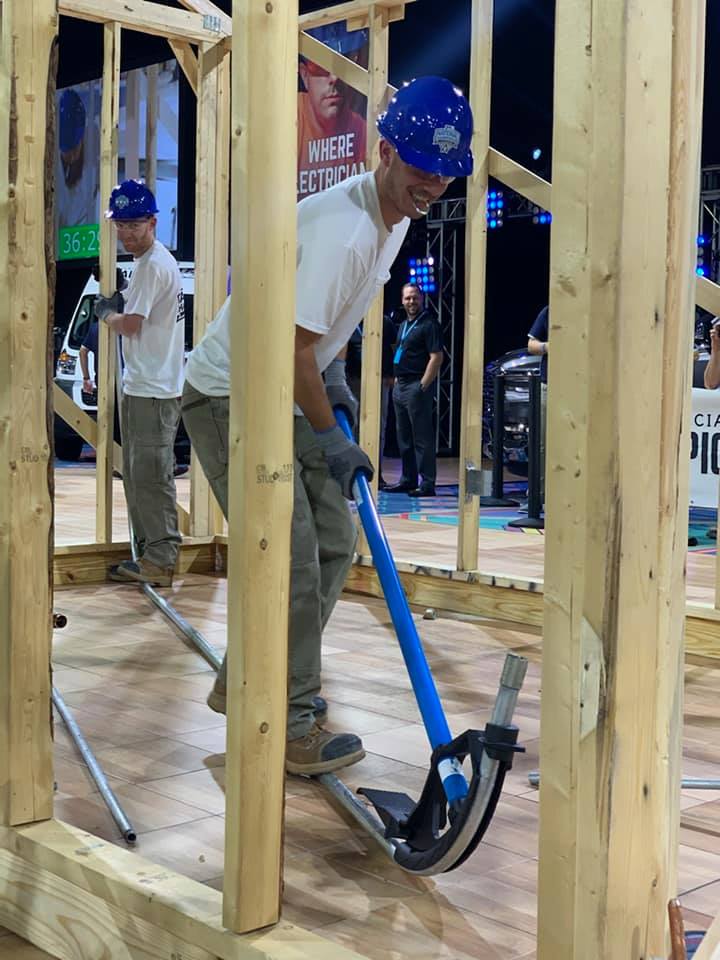 about," said Jordan, "Clearly we need to come up with a better strategy next year," he said joking, but added, "Considering the challenge was something we had never done before, I am happy with our performance."
Pipe bending was a bit of a challenge for them, as Jordan alluded to, being something they aren't doing on a regular basis, working mostly residential jobs. But being there the previous year they knew it could be a part of the competition and made a point to practice before hand. "It takes us a while to measure it out, whereas some guys can just eye it out," Brett noted.
Just as it is in professional sports, everything has to be second nature. Everyone is operating at a high level, when you pause to think or hesitate you are at a disadvantage.
Being there a second year also helped with nerves. "There's camera's everywhere, there's crowds cheering you on, it's pretty intense but it's a one of a kind event, for sure."
"Once you're in it, you're in it," Brett said laughing, "The new board will come out and we'll buy it, practice at home and be ready for the competition."
With the added experience of a second year down in Florida at the national event, they'll look to qualify once again and improve on their result.
Blake Marchand is Associate Editor, Kerrwil Electrical Group