Shannon Tymosko — Electrical Apprentice, IBEW — Ambassador, KickAss Careers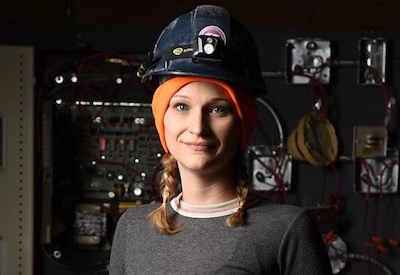 June 15, 2020
By Blake Marchand
Shannon Tymosko is a first-year apprentice with IBEW (International Brotherhood of Electrical Workers) Local 105, something she undertook after 10 years working her way up the ranks of a payday loan company.
"One of the things I love, working in the trades, is you can see your progress and you can see at the end of the day the work that you have done.
"I go home every day feeling a sense of pride and accomplishment."
Shannon initially took on a pre-apprenticeship machinist program at YWCA Hamilton. However, at the end of her co-op she wasn't hired full time by her employer due to costs and tariffs imposed at the time by the US on steel, and had trouble finding a job.
"I'm assuming it was because of my gender; I know that's quite the assumption," she said. "At the time I left Dofasco (the company that she did her co-op with) there was another girl named Danny. Danny is a boy's name, right, and so we both obviously had a very similar resume, we both had a co-op at Dofasco, and we're both on Indeed and those kinds of places… In the two weeks that followed our co-op, Danny had three interviews and I had not received one phone call."
Shannon understands that some small machine shops may not be prepared to take on women because there are so few in the trade. The changes they would have to make to accommodate a woman could be costly, she said, particularly for small shops.
After several months without making any progress towards finding a job, she went back to the YWCA to take on the electrical pre-apprenticeship program, "which has opened up so many more avenues," she said.
"I finished my pre-apprenticeship program which the IBEW had participated in facilitating some of our training — working at heights training and lockout, tagout training. I reached out to them for a job and was very lucky they opened their doors and took me on. Since then the IBEW has been nothing but amazing and encouraging, including sponsoring and attending the YWCA Women of Distinction dinner with me as support. It is awesome to know I have so much support from my hall and brothers and sisters in the trades."
Shannon was subsequently laid off, due to the pandemic. Before restrictions were put in place on construction projects, she was working on a hotel in Burlington, her first project as an electrical apprentice. Now she is back on the job.
Shannon said she feels fortunate to be with a good crew at her current job, one that is supportive and is making an effort to include her in more than just the labour aspect of the job. But that also comes down to her personality. She is eager to learn and isn't afraid to ask questions and to get involved in things she hasn't done before on the job, such as bending and installing conduit, pulling and running wire, and the complete rough in of the suites. Her team ensures she is involved in every step of the process, including the completion of the mock-up suite for the hotel owners to review. Seeing how it was done from top to bottom was a great learning experience.
"I've been very fortunate to have a very good site, a very good team that's allowed me to have good learning environment."
"There are some struggles being the only girl, there are some physical aspects I struggle to do, which is where I have to focus on working smarter, not harder because I can still do it, I just might have to think of another way to get around it. But I like the challenge of looking at something I've never done," she said. Looking at a particular task or aspect of the job and working through the best way to tackle it and ultimately turning out a finished product is rewarding.
Although it can be intimidating walking onto a jobsite as the only woman, particularly in the first few days, once you get into the work and a routine gender isn't as big of a factor. She has been able to build solid relationships with her journeyman and has obtained some great experience.
Shannon is still uncertain where she wants to go with her career as an electrician. Being new to the trade she is still learning about what opportunities there are throughout the various sectors of the industry. However, she is an ambitious person who is passionate about her work and her potential.
"I am excited about learning and seeing what's out there. I'm sure there will be some avenue I really find quite exciting, but right now because I'm so new everything is quite exciting. I want to build a foundation and build my skills and see where that takes me."
Shannon is also an active participant in the broader industry as an advocate with KickAss Careers, an educational group and advocate for MITC (mechanical, industrial, technology, construction) careers and workplace equality founded by Jamie McMillan, a journeyman ironworker, and Pat Williams, a retired stationary operating engineer.
Shannon became aware of the organization after Jamie gave a presentation to her pre-apprenticeship program.
"I was inspired by this woman and motivated; it gave me that drive. It's nice knowing — you don't always work with other women, but there are a lot of women in the trades just kind of dispersed. So, to have that support even though you don't see it at work every day is really nice."
On the night before her first day with IBEW she found out someone close to her had passed away, and although she didn't have a personal relationship with Jamie at that time, she reached out for advice.
"That really solidified our bond, I think, and from there it's developed even more. I have since become an ambassador for KickAss Careers, had the honour to attend the YWCA Women of Distinction as an IBEW representative, taken part in a trade career fair with OYAP (Ontario Youth Apprenticeship Program) and visited a high school discussing my journey and passion as a tradesperson." Part of the reason she wanted to get involved is that while in high school, although she was the only girl in her year to take shop, a career in the trades wasn't presented as an option for her. And with her current opportunity as an apprentice, she sees the prospects of a promising career in a job that she enjoys. One where she can earn decent living and retire with a pension and feel satisfied with her day's work.
Blake Marchand is Assistant Editor Kerrwil Electrical Group