Endress+Hauser's New LEED Gold Customer Experience Centre
June 17, 2022
By Krystie Johnston
The Customer Experience Centre. Four thousand four hundred square meters of sensationally detailed architecture, designed to ensure a superior customer and employee experience. The CEC showcases Endress+Hauser's best-in-class instrumentation. It has a full-service calibration laboratory capable of handling the entire spectrum of flow, temperature, pressure, and level instrumentation – unmatched by any in the country.
The crowning jewel is the state-of-the-art Process Training Unit (PTU), which features on-line instrumentation and controls where people can get hands-on experience with operation, diagnostics, and troubleshooting found in real-life process plants. The repair facility, training centre, state-of-the-art offices and recreational space are also impeccable.
Moreover, the building is a pioneer in environmental leadership, setting new benchmarks in Canada with LEED Gold and net zero energy and carbon design. Endress+Hauser is the first private company to strive for all three certificates from the Canada Green Building Council, and this accomplishment echoes their corporate culture in every detail. Sustainability, commitment, excellence, and friendliness – every inch of this space exemplifies these values that have guided the company for more than six decades.
Walk the Talk
Endress+Hauser has buildings in over 35 countries, and the global target for them has always been LEED Silver. When Anthony Varga, General Manager of Endress+Hauser Canada Ltd. approached management in Switzerland with LEED Silver ambitions, he was challenged to aim higher. The CEO, Matthias Altendorf, pressed Anthony to do more, "We need to do better. Where is the solar roof and where are the heat pumps?" Endress+Hauser management wanted to build a building that would be sustainable, right from the start. Sustainability is one of the reasons they did not simply retrofit their existing building, which is half the size of the new one, and just a few blocks away. The scope of the project required a new start. Altendorf says,
"We also bought more land than we need now, because we need to leave something for the next generations to work on. That starts with the building. We want to walk the talk. We help our customers to improve their energy efficiency and we want to do the same, so we do it with our own building."
They bought a green field close to their previous building not only for room to grow – but also because they did not want their employees to have to change their commute.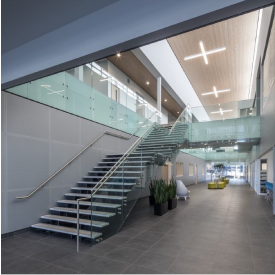 It was hard to find a company who could achieve these sustainability requirements, but Varga rose to the occasion and found Drew Hauser (no relation to the company), from McCallumSather. As the lead architect on the project, he was also challenged by the Endress+Hauser group to aim higher, and says it was a rewarding experience. One of the LEED principals is to try and use materials that are from the surrounding environment. The limestone used is locally sourced from Owen Sound, and because it is local, it is resilient. An added benefit is that because local materials were used, the work involved employing local people.
The push for LEED Gold for this building is a statement. Endress+Hauser wanted to create a building with sustainable fashion. Altendorf knows this accomplishment is remarkable, and anticipates reactions to the building,
"There will be side effects of course, people will recognize this and wonder, 'Who is Endress+Hauser?' Maybe not by the product, but by the architecture."
The Most Important Thing Is the People
As a family-owned business, Endress+Hauser's management style is unique. For this company, it is more valuable to think about the sustainability of the company and to have something to pass down to the next generation than to strive for dividends. For the fiscal year 2021, Endress+Hauser achieved new records in incoming orders, sales, profit, and headcount, and despite global challenges like the pandemic and the war on Ukraine, they delivered 2.6 million instruments to their customers and ensured material availability around the world. With six decades of experience, they know how to weather a storm. Altendorf says,
"For us, the longevity of the company has more importance than the short-term success. When you go for the longevity, you work on your fundamental principles to keep them in shape. We learned that during the crisis in 2009. Our business was minus 30% but we didn't lay off anyone, we did not furlough anybody. We did not go to short-term. We said, 'Guys, don't worry. Business will come back, and we will need you.'"
Business did come back. The following years were record-breaking because they had all their people on board.
Taking a human-centric approach has benefited both the employees and the company. Reflecting on the success Endress+Hauser has experienced, Altendorf says,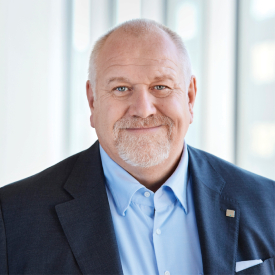 "The most important thing is the people. People forget that always. People make the difference. If you want to have a heavy stone and put it on the table, none of us could maybe lift it alone, but together we can. That is the collaboration. That aspect, for me, is very important to build in the building, in the company, and the way that we work and work with the customers. That, for me, is the key point, that makes the difference in the long run, and that is why we out-pace all the competitors."
The company cares about people, whether they are their customers, suppliers, own employees, or their families, and this plays a role in their success. It is a different attitude to be invested in the longevity of the company to bring the business to the fourth and fifth generations.
We Learn Much More by Being Together
One might question why a company would invest deep roots at a time of shifting landscapes. Why they would invest $28 million into a building designed to engage customers and employees with the latest instrumentation and technologies to foster collaboration. Altendorf would tell you it is because we learn much more by being together;
"When it comes to bringing people together, the change of this planet has not been done in a home office. It has been people, together, at the end of the day. For me, I came here before we even had Endress+Hauser in Canada, 33 years ago. For me, right from the beginning, you see the various steps, and I am proud of our people and the journey we took together. You do not find so many people who do a journey over 35 years with a company."
Over the years, the company engaged with, learned from, and improved its understanding of this country and its measurement technologies, which is a critical part of Endress+Hauser's global strategy of cultivating and managing customer partnerships.
Bringing people together is exactly what the Customer Experience Centre is about. Endress+Hauser's PTU has a wide range of instrumentation supported by manufacturers of controls, valves, and analyzers like Rockwell Automation, Samson Controls , Rittal, and others. Customers benefit from these long-term partnerships because these companies provide a high level of support, integrating their components seamlessly with Endress+Hauser's.
Collaborations with top management globally make it smooth and easy for the customer. Altendorf describes a high level of support from their partners,
"We must reflect on what the real world of our customers is. We can only make instrumentation, we do not do any controls, we do not do any valves, or whatever else we do not do, so we need partners. It is better that we collaborate with those partners so that we can demonstrate to our customers, 'Hey, we work close with the integrators.' The smoother and easier it is, the less effort it is for the customer, and therefore the more confidence they have."
For more on the Customer Experience Centre, visit Endress+Hauser.ca