Canada Electric Vehicle Scorecard: Ranking Provincial and Territorial Strategies, Policies & Investment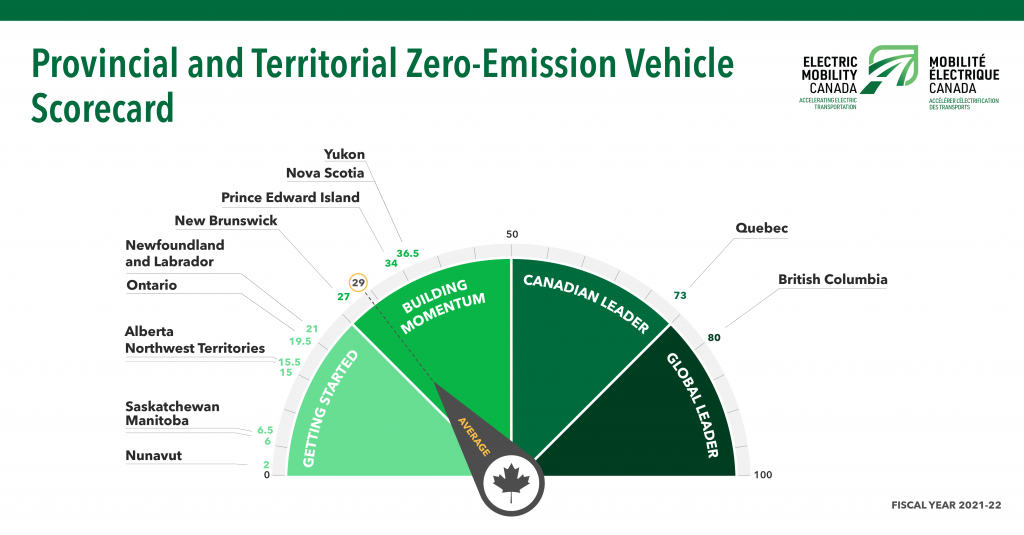 October 5, 2022
More and more Canadians are looking to switch to electric vehicles (EVs), whether to help the environment, say goodbye to unpredictable gas prices, or to enjoy an improved driving experience. Electric Mobility Canada (EMC), with the support of Dunsky Energy + Climate Advisors, have released a Scorecard comparing how well Canadian provinces and territories are doing at supporting consumers in their journey to emission-free transportation.
The Scorecard shows that exciting action is already underway, with EVs becoming the clear choice for consumers and businesses in many parts of the country. At the same time, provinces and territories still have much work ahead to meet demand and provide affordable access to electric vehicles.
The Scorecard measures progress based on policies and programs put in place to ensure EV supply, support adoption, build charging infrastructure, and develop the workforce. Provinces and territories are then grouped under the categories of Canadian Leaders, Building Momentum and Getting Started.
Global Leaders: BC has taken the most comprehensive approach to enabling EV adoption, starting with the core steps of adopting purchase incentives, investing in infrastructure, and enacting a strong mandate for minimum EV sales. In addition, it has taken meaningful steps to train its workforce and orient its economy to for the transition. Next steps for BC should include continuing to prioritize equitable outcomes in investments, further disincentivizing internal combustion engine vehicles, and ensuring safe and sustainable processes for battery disposal.
Canadian Leaders: Quebec emerged as a Canadian Leader and can aspire to become a Global Leader. Quebec has adopted a EV mandate, offers comprehensive funding to individuals and businesses to adopt EVs, and is taking action to grow the EV workforce, and has built a widespread charging network thanks to a clear mandate given to the utility (Hydro Quebec). Notably, Quebec's anticipated move to strengthen its mandate for minimum zero-emission vehicle sales will help to drive supply and uptake. Other important steps include prioritizing equitable outcomes in investments and further disincentivizing internal combustion engine vehicles.
Building Momentum: Nova Scotia, the Yukon, PEI and New Brunswick are all building momentum, having recently brought in purchase incentives to bolster EV adoption while investing in public charging networks. To move into the Canadian Leader category and provide consumers with more access to affordable, reliable EVs, these jurisdictions can further support medium- and heavy-duty vehicle electrification and accelerate investments in charging infrastructure and take further action to develop their EV workforce.
Getting Started: Provinces and territories that are getting started (Newfoundland and Labrador, Ontario, Alberta, the Northwest Territories, Saskatchewan, Manitoba and Nunavut) have different strengths, and areas for improvement. Newfoundland scored the highest in this category, having adopted purchase incentives and having made substantial investments in charging infrastructure. Ontario is the Canadian leader in economic development in EV manufacturing thanks to its efforts to bring EV manufacturing to the province. Alberta has focused on financial support for municipal action. Each of these provinces and territories can look to its peers for inspiration on next steps but without more action, consumers in these jurisdictions will keep struggling to access affordable and reliable EVs, and risk being left behind in the transition.
The Canada EV Scorecard tracks actions taken or already in place in the 2021–22 fiscal year (Apr. 1, 2021, to Mar. 31, 2022). Funding for the Scorecard was also provided by the Trottier Family Foundation, the Ivey Foundation and the Transition Accelerator. EMC intends to update and release the Scorecard regularly, acting as a consistent reference point for progress and policy inspiration in the transition to EVs.
"Provinces and territories have a key role in making electric mobility a reliable, affordable and accessible option for all Canadians. Those making it easiest to skip the dreaded cost of a trip to the pump have a few things in common: mandating sales of EVs, introducing purchase incentives, and making investments in charging infrastructure," said Daniel Breton, President and CEO of Electric Mobility Canada. "We clearly see that these measures encourage EV adoption and protect Canadians from unpredictable and exorbitant prices at the pump, but there's much more to be done across Canada and in every action area. To make the most of an expected federal ZEV mandate, EMC calls on provinces and territories to leverage their unique to advance ZEV adoption and to keep Canada competitive while getting cleaner and creating high paying sustainable jobs."
Click here for the full Provincial and Territorial Zero-Emission Vehicle Scorecard 2021.
See the methodology report here.