Smartflower Microgrid Project Enhances Provincial Curriculum Resources and Showcases Saskatchewan Tech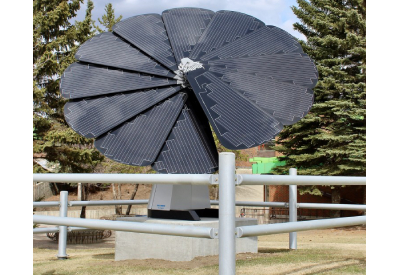 November 3, 2022
The official launch of the Smartflower Microgrid (MG) marked another milestone for the future of green technology in Saskatchewan.
The Saskatoon Industry Education Council (SIEC) and Siemens Canada welcomed dignitaries and guests to a launch event at Bishop James Mahoney High School in Saskatoon.
The Smartflower MG is now powering classrooms and providing real-time data on electricity production and energy absorption. Students were on hand to provide classroom tours and discuss the solar-powered microgrid solution, co-created by Siemens Canada.
New curriculum resources will be available to students across the province, providing a deeper understanding of green technology and the applications of solar power, data analytics and grid management. Students will learn how microgrids generate, distribute, and control power in a campus setting such as a school, a small community, in critical infrastructures, military institutions, commercial and industrial areas, remote locations, and on islands.
"SIEC is pleased to be able to provide opportunities to students in K-12 to learn about career pathways in the green energy sector. Access to the Smartflower technology and connecting it to STEM education is a great way to showcase what careers are available now and in the future in Saskatchewan," said Janet Uchacz-Hart, Executive Director, SIEC.
Siemens Canada is responsible for the innovative technology behind the Smartflower MG, the first educational microgrid of its kind in Canada. The resounding success of the pilot project in Saskatoon has paved the way for subsequent Smartflower MG installations across Canada.
"We are excited to offer students the opportunity to learn about renewable microgrid installations. It is very rewarding to see young people excited about working with these technologies in the classroom and using the knowledge to make their own homes and communities sustainable," said Faisal Kazi, President and CEO, Siemens Canada. "Projects like this enable a more sustainable future – a future that is in their hands."