Habitat for Humanities – Providing Families with a Hand UP Not a Handout
November 14, 2023
By Sandra Pedro
Habitat Canada has been the EFC charity of choice since 2017. This program provides a vehicle for association members to help Canadians gain affordable homeownership through cash and product donations. On October 2nd, World Habitat Day, Electro-Federation Canada (EFC) members and their business partners were united for the 3rd Annual EFC Day of Giving in support of Habitat for Humanity Canada. In 2022, thanks in part to the generosity of EFC members, Habitat Canada was able to serve more than 2,400 families and build 194 new homes. Resulting in over $38 million in social benefits being returned to the community. Research shows that for every $1 donated, there are $4 in social benefits returned to the community.
Currently 1.7 million Canadian households live in core housing need. A decent and affordable place to live provides families with economic independence and the opportunity to invest in themselves. Stable housing helps to close the income gap, allows families to transform rent to monthly payments building equity, and creates more inclusive and diverse communities.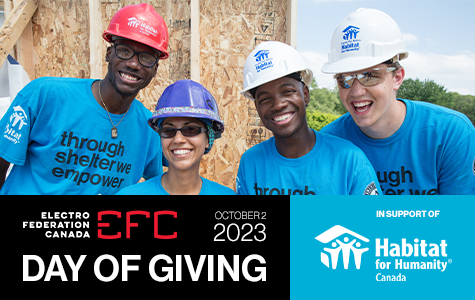 On October 5th, 2023, EFC volunteered at a habitat build site in Hamilton. The work was physically exhausting and extremely rewarding. Walking past the pictures of the young family slated to move in, generated deep feelings resulting in heartwarming welcome messages written on the inside of the walls that the EFC team had built. Habitat homeowners read these messages while helping build their home alongside volunteers and trades people, logging a minimum of 500 volunteer hours as part of their commitment to the program. Once the home is completed the work is not done. They are enrolled in the homeowner learning program consisting of how to manage personal finances, mortgages, maintain and upkeep of their home and how to be a good neighbour ensuring another opportunity to learn and enrich the community in which they live.
Like Habitat for Humanity, EFC believes strongly that when families have access to safe, decent, and affordable housing, they are stronger, healthier, and more independent. Help us achieve this by donating electrical products to the re-stores or build sites. Another way to give is to make a cash donation of $10,000 or more in support and have your group participate in a build day, a fantastic team building opportunity while giving back to the community.
It is not too late. Join the 2023 EFC Member donor community and help provide a family with a decent place to live by donating today: www.habitat.ca/efc
2023 EFC Habitat for Humanity Participants
3M
ABB
Aeralux
DAD Sales
Eaton
E.C.S. Electric Cable Supply
Electrozad
EIKO
Gerrie Electric
Graybar Canada
Hubbell
IPEX
Magic Lite
Mattr – Shawcor
O'Neil Electric
Rexel
Robertson Electric
Schneider Electric
Service Wire
Sonepar – Texcan
SouthWire Canada
Wesco – EECOL Electric
Westlake Pipe & Fittings
Affiliate Distributors Canada
Participants in the Quebec EFC Golf Tournament
EFC
Recommended Reading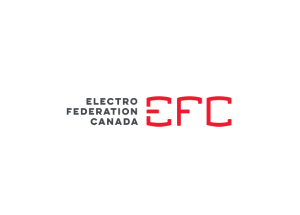 There isn't a more important time to be in the electrical industry than 'right now'. Canada's signing of the Paris agreement, means that we need to reduce GHG emissions by 40 – 45% below 2005 levels by 2030 and reach Net 0 by 2050. Read More