How World Market Center Stands Apart from Las Vegas' 12 Million Lights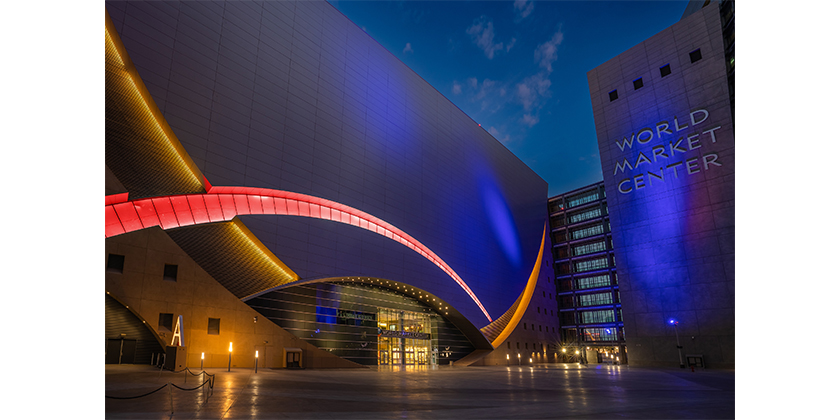 It was in February 2018 that National Geographic described Las Vegas as the brightest spot on Earth. That was based on the view from space at night. While Paris retains the honor of being known as the "City of Lights," Las Vegas is often referred to as the city of electric lighting—more than 12 million lights, in fact, concentrated on the Strip alone (according to Travel and Leisure in a February 2021 article).
With all these lights twinkling brightly to spotlight the high concentration of hotels, casinos, and other nightlife venues on and around the Strip, it's difficult to design a lighting scheme that stands out. But that did not stop Las Vegas area-based ASA Electrical Solutions and NEDCO Supply from trying to do just that.
The facilities team at the World Market Center Las Vegas had reached out to NEDCO, who worked with ASA, when it decided it was time to upgrade the lighting at the entrance to the expansive facility that hosts large-scale meetings, conventions, and social events in downtown Las Vegas. The team's goal was to design a dynamic, high-impact lighting scheme that was both welcoming and served to accurately direct people to the main entrance.
Among other criteria, the chosen lighting had to not only complement the architectural façade and existing exterior lighting of the four buildings and three pavilions that make up the World Market Center, but it also had to complement the overall look and feel of downtown Las Vegas which features landmark hotels, street murals created by internationally renowned artists, a handful of iconic museums, and free outdoor entertainment.
About the World Market Center
Located at 495 Grand Central Parkway in Las Vegas, the 5-million-square-foot facility is the largest showroom complex in the world for the home and hospitality furnishings industry, serving domestic and international sellers and buyers. Situated on 59.4 acres in the heart of Las Vegas, the World Market Center showcases the product portfolios of furniture, gift and home decor manufacturers, attracting more than 50,000 attendees twice a year. The Center's permanent showrooms and temporary exhibits feature the latest furniture, bedding, casual/outdoor, home décor, and gift products from more than 4,000 exhibitors and brands.
A Brilliant First Impression
Before you enter the World Market Center Las Vegas, you know something is special inside by the lighting that greets you on the outside. The entrance features dramatic 4,150-foot arches with dynamic color-changing lighting.
As part of the new lighting criteria, the Center's facilities team determined that the entrance needed a flexible, RGBW color changing product that could be easily curved and cover a large area.  In addition, the lighting had to be easy to install, easy to operate and require very little maintenance.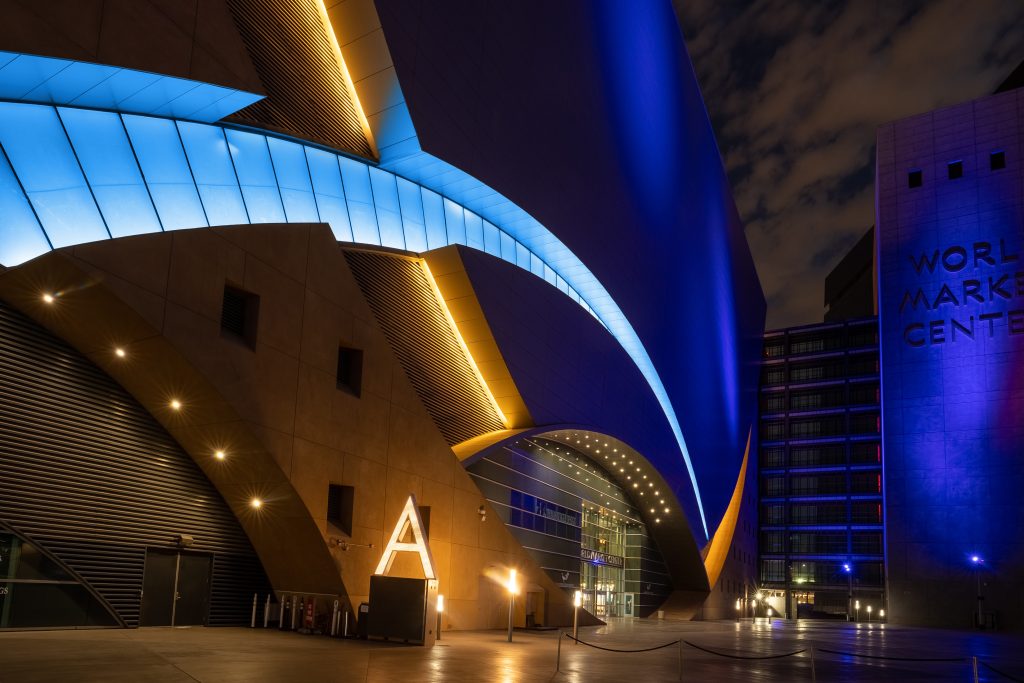 After a thorough investigation, the facilities team, in conjunction with ASA Electrical Solutions and NEDCO Supply specified Hybrid 3 RGBW in 150-foot reels from American Lighting for all of the entryway arches on the four buildings of the World Market Center. IP65-rated for wet locations, Hybrid 3 RGBW is an innovative tape light in sealed jacketing that provides superb light output for indoor and outdoor use, offering up to 130 lumens per foot, while only consuming 3 watts operating at 120V DC. The fully encased tape light features an adjustable CCT of RGB+3000K that allows the LEDs to be precisely set in a wide range of colors to optimize lighting effects.
For custom applications and minimal maintenance, Hybrid 3 RGBW has parallel wiring in 12-inch cutting increments that ensures if one LED goes out, the rest of the LEDs continue to operate efficiently. Hybrid 3 RGBW is ETLus listed and will perform in temperatures ranging from 30°C (-22°F) to 45°C (113°F). Other benefits of the chosen RGBW lighting include its 0-100 percent dimming capabilities and the ability to program a wide range of colors thanks to a 120-CTRL-4CH DMX decoder and DMX controller.
Liz Reinbold, Las Vegas Sales Manager for ASA Electrical Solutions, said, "Hybrid 3 met all the project criteria regarding ease of use, ease of installation and longevity. The maximum run of 150 feet enabled us to cover an entire archway area with one reel per arch, eliminating the need for additional drivers or accessories for functionality."
Now, guests are greeted by dynamic lighting that changes for different events, seasons, and holidays throughout the year.
"The color-changing lighting certainly adds dynamic pop to the facility, while integrating with the existing exterior lighting.  Plus, visitors know exactly where to enter," said Al Saucedo, outside sales for NEDCO Supply.  "The facility team was really amazed at the finished look and light output. The end result was a significantly improved aesthetic appearance of the buildings' exteriors which adds to the overall appeal of the area."
Project Participants (Alphabetic Order)
American Lighting
ASA Electrical Solutions
Las Vegas Market Center – Facilities Team
NEDCO Supply