LEDVANCE Outdoor Lighting Case Study: Bellingham International Airport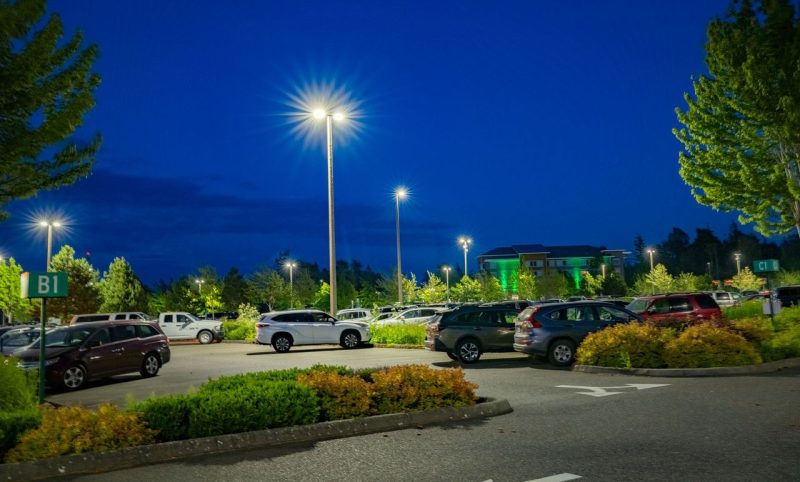 December 19, 2022
| | |
| --- | --- |
| Goal: | To upgrade the outdated metal halide lighting illuminating two outdoor parking areas at Bellingham International Airport in Bellingham, WA and deliver improved lighting quality, uniformity, and sustainability while significantly reducing energy usage and maintenance costs |
| Product Installed: | 100 SYLVANIA LED Area Lights from LEDVANCE |
| Benefits: | SYLVANIA LED Area Lights reduced the airport's lighting energy consumption by 56%. The upgrade will save the airport over $10,000 a year on lighting energy costs and around 100,000 kWh.    The extreme durability and long 150,000-hour lifespan of the SYLVANIA LED fixtures will significantly reduce maintenance costs and concerns for years to come. Maintenance cost savings are estimated to be between $6-8K annually. The project was eligible for nearly $27,000 in rebates from local utility Puget Energy Sound. The project payback period was just 1.1 years. |
The Situation
As the third largest commercial service airport in Washington State, Bellingham International Airport — owned and operated by the Port of Bellingham — serves nearly 350,000 passengers annually (pre-pandemic) through its flights to six non-stop destinations in California, Arizona, Washington State, and the San Juan Islands.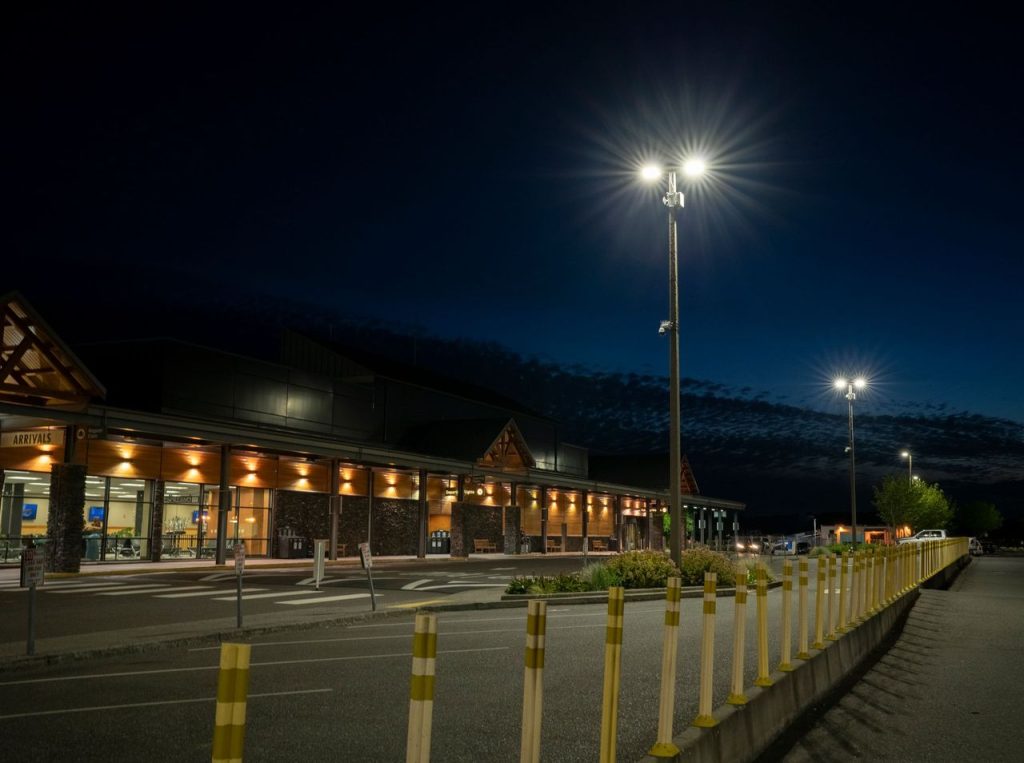 Originally built in 1980, Bellingham International Airport's 27,000-square-foot terminal was later expanded to 105,000 square feet in 2014 to accommodate airline growth through 2040. Throughout the past four decades, the Port has made continuous upgrades to airport property and facilities as part of its ongoing commitment to delivering the safest, most comfortable, and most positive experience possible to passengers, visitors, and employees alike. When older lighting technology recently began creating visibility and maintenance concerns in the airport's outdoor parking areas, the Port of Bellingham reached out to trusted partners from LEDVANCE, makers of LEDVANCE and SYLVANIA General Lighting in the US & Canada, and electrical distributor North Coast Electric for a new lighting system that would deliver the utmost in lighting quality, energy efficiency, low maintenance, and long life.
"The metal halide lights in our main and economy outdoor parking areas were outdated," shared Matthew Rodriguez, C.M., GSP, Airport Operations Manager at Bellingham International Airport. "In addition to the fact that they weren't energy-efficient, the lights required frequent replacement and their lumen output fell significantly short of what modern lighting can deliver. After evaluating our opportunities for maintenance and energy cost savings, the Port elected to pursue a lighting upgrade."
The Port team sought the expertise of longtime distributor partner Bob Nietfield, Senior Lighting Specialist at Seattle, WA-based North Coast Electric. "Over time, the 400 and 250-Watt metal halide fixtures that lit the airport's approximately eight acres of main parking space and economy parking space across the street had grown very dingy and delivered poor lighting quality." In addition, he said, "the fixtures were large and cumbersome and up to five percent of them weren't working at any given time, which was a costly and time-consuming concern for the Port's onsite electricians who needed to come out with a lift to replace failed lamps and ballasts sitting on top of 25-foot-high poles."
According to the airport's Rodriguez, "our goal was to provide better illumination to enhance safety and security for our tenants and customers, while reducing energy costs as part of our Port's 'Green Direct' program. We knew that LED lights would be far more cost-effective, require less maintenance and replacement, and help provide better lighting and security for our customers and airport staff."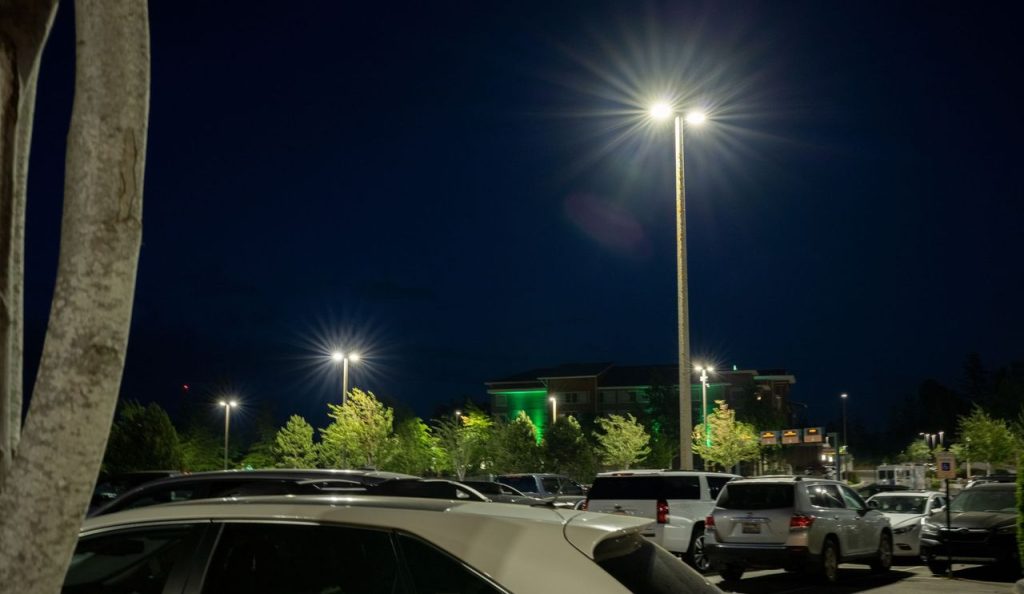 The Solution
Following a thorough audit of the lighting, the solution was clear.
"We've been carrying SYLVANIA lighting products from LEDVANCE for years and recommended the 200 and 100-Watt SYLVANIA LED Area Light for this application," Nietfield said. The SYLVANIA LED Area Light offers a 150,000-hour (L70) lifespan, is IP65 rated to ensure reliable operation in demanding environments, and is ideal for parking lots, parking garages, and general outdoor area lighting. "We'd used previous generations of that fixture on other projects with great success. We felt that fixture with a 4000K color temperature would optimally light the airport's parking areas without creating light spillover that could interfere with pilots or other airport functions."
"North Coast did a great job of preparing the lighting layouts, and we supported them by ensuring that the selected SYLVANIA LED fixture had the right optics, color temperatures, and light distribution to meet the end user's needs and specifications," said Sean Foley, Regional Manager for the Northwest Region at LEDVANCE.
Installed in two phases in Fall 2021 by in-house electricians from both Bellingham International Airport and the Port of Bellingham, "the upgrade involved one-for-one changeouts of the fixtures on their existing poles, and the installation was pretty easy," Nietfield said. "The SYLVANIA LED fixture has an adjustable pole mount, avoiding the need for installers to have to drill multiple holes while they're up on the lift and making it a perfect fixture for the application." While installation occurred during the pandemic, "most of the maintenance crew members were working by themselves on lifts, so there were no issues surrounding social distancing, and they also did some of the work at night to avoid any disruption to airport operations," he said.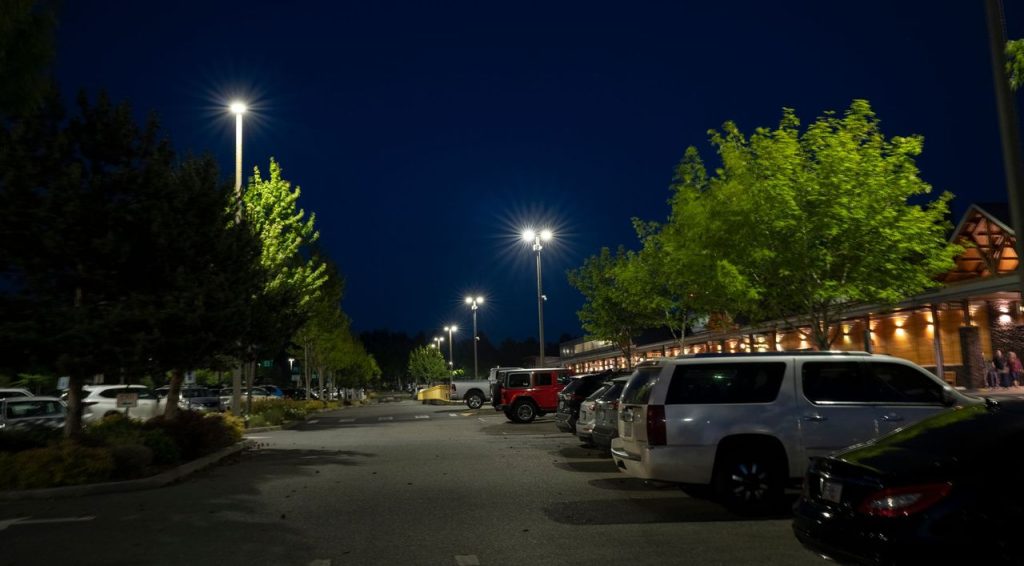 The Outcome
Since completion of their upgrade, the airport team couldn't be happier with the look and performance of their new outdoor lighting.
"The Port has received many positive messages from the public regarding our LED upgrade," Rodriguez confirmed. "The upgrade improved overall lighting for customers departing or arriving during low-light hours, and the Port has also observed a benefit for operations, security, and tenants performing their nightly tasks in the parking lots."
"The new SYLVANIA LED fixtures have a sleek and modern appearance that matches the concrete poles they're on, and the light they emit has given the outdoor parking areas a whiter, brighter, more inviting, and more secure look and feel," Nietfield said.
The upgrade slashed the airport's previous outdoor lighting energy consumption by 56%, saving over $10,000 a year on energy costs and around 100,000 kWh. Maintenance cost savings are estimated to be between $6-8K annually. In addition, the airport secured a nearly $27,000 rebate on the new SYLVANIA LED fixtures from local utility Puget Sound Energy. This further enhanced the project's ROI and helped the upgrade pay itself back in just over a year.
"The Port is pleased with the quality and performance of the SYLVANIA LED fixture from LEDVANCE and the additional benefits gained, and North Coast Lighting was professional and responsive to our needs," Rodriguez said. "Overall, the Port is very happy with the outcome of this project and plans to upgrade the airport's commercial terminal lighting in the near future."
"It's always great to see improvements to a customer's experience and operations through the use of our products, and we're proud of the dedicated and long-term relationship we've forged with North Coast Electric," said LEDVANCE's Foley of the successful upgrade.
The project's great outcomes are even more personal for North Coast's Nietfield, who grew up just two miles from Bellingham International Airport.  "This upgrade was great for both the Port and airport, and passengers, visitors, and employees will now be coming into a much nicer, more well-lit, and more energy-efficient space," he confirmed.  "Going from metal halide technology to these new SYLVANIA LED fixtures drives so many benefits – from improved lighting performance and significant cost savings to minimal maintenance, greater security, and an overall enhanced atmosphere."​
Go HERE for more information on LEDVANCE products