Eaton's Halo LED Recessed Downlights for Slope Ceiling Applications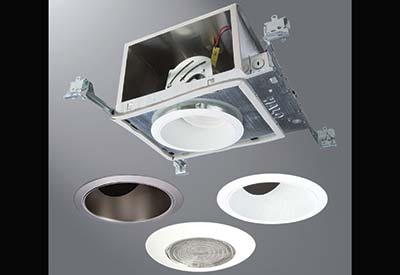 Designed for slope ceiling applications for residential, hospitality, retail and institutional settings, Eaton's new Halo ALLSLOPE light-emitting diode (LED) Downlight System adds more high-performing, energy-saving products to its recessed downlighting offering. The HL6 downlights feature unique interchangeable beam-forming optics, full range dimming and many colour temperatures and trim options.
The Halo ALLSLOPE LED downlights provide up to 73% in energy savings with virtually no maintenance, says Mark Eubanks, President, Eaton's Cooper Lighting Division. "The innovative design for pitched ceilings allows the LED lamp module full adjustment capability so it can be aimed straight down in accordance with the ceiling pitch, resulting in outstanding performance and appearance."
The recessed downlight system is designed for slope ceilings with pitch aiming from 2/12 (10 degrees) to 12/12 (45 degrees). The three-piece system consists of 
• a choice of a 6-inch aperture housing, available in 1200 lumens or 1800 lumens
• an LED light engine module with three interchangeable optics
• a trim selection from a full line of compatible trims including reflectors, baffles and lens choices
The high efficacy LED downlights deliver up to 90 lumens per watt and are offered in 2700K, 3000K, 3500K and 4000K correlated colour temperatures with a high colour quality 90 colour rendering index. The unique interchangeable beam-forming optics are available in Narrow Flood (25 degrees), Flood (40 degrees) and Wide Flood (55 degrees) options, which offer the ability to select a cone of light (beam angle) in proportion to the ceiling height. The aiming mechanism allows 360 rotation and locks the LED light module in place in accordance to the pitch.
The ALLSLOPE LED downlights offer dimming capability and are designed to last 50,000 hours. Depending on the selected housing, these AIR-TITE, ENERGY-STAR-certified products consume only 19 watts or 27 watts of energy, replacing comparable 70 watt and 100 watt traditional reflector lamp sources. 
The fixtures incorporate Halo's contractor-friendly installation features including Got Nail!bar hangers with pre-installed nail and integral T-grid clip, Slide-N-Side wire traps and quick-connects for tool-less wiring outside the junction box, as well as the Pass-N-Thru bar hanger feature for tool-less shortening of bars without removal from the frame. The products are damp location listed with a wet location listing for showers and outdoor covered patios using lens trims.
For more information on Eaton's lighting solutions, visit www.eaton.com/lighting.
 >> Source ALL of your Canadian Electrical products in the Goldbook Directory <<
Other Products:
Eaton's Halo LED Solutions Bring Energy Efficiency to the Greenbuild LivingHome
Eaton's LumaWatt Wireless Lighting Control System
Eaton's New Variable Drive Series
Eaton Telescoping Light Pole System: Safer Installation and Maintenance Alternative
Eaton Energy Efficient LED Luminaire for High Ceiling Applications
Eaton's Energy Efficient Linear LED Luminaire Provides High Efficacy and Cost Effective Illumination to Open Ceiling Environments
Eaton Offers Efficient Asymmetric Lighting Solutions for Large Open Spaces
Eaton's LED Roadway Luminaire: High Performance, Energy Savings and Affordability
Eaton High-Performing Ambient LED Luminaire
Eaton's Downlighting LEDs Add Brightness Control, Up to 80% Energy Savings
Eaton Relay Helps Achieve New Level of Energy Awareness, Safety and Diagnostics
Eaton's Auto-Monitoring GFCBs and Wall Receptacles Advance Electrical Safety, Reliability
Eaton Laser-Etched Labels Help Authentication, Combat Counterfeiting
Eaton's Award Winning LED Parking Garage Luminaire
Eaton's J-Hook Colour ID Products for Data Centre and Light Commercial Cable Applications
Eaton Electric Vehicle Charging Stations: New Cord Connected Home Charger
Eaton's New Variable Drive Series