Eaton Modular 2″ Round and Square LED Pinhole Downlights for Commercial and Residential Spaces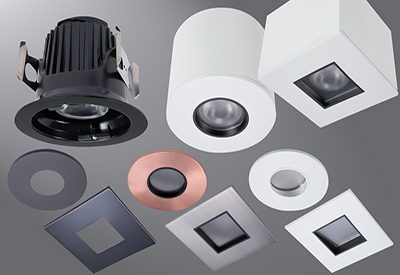 July 25, 2016
Eaton's Halo® ML4 light-emitting diode (LED) Downlighting System for residential and commercial spaces, a compact and uniquely modular recessed downlight system, includes a housing, LED module and a choice of a field-interchangeable, round or square, 2-inch aperture pinhole trim. The system is available in multiple aperture styles, optical distributions and finishes.
The Halo ML4 system provides a broad range of lighting solutions for new construction and retrofit applications, including single and multi-family dwellings, hospitality, retail, office and institutional spaces.
"The comprehensive Halo ML4 system combinations offer solutions for ambient, task, wall wash and accent needs, providing useful distributions for a balanced lighting layout," says Glenn Siegel, Director, Marketing and Product Management, Eaton's Lighting Division. "As a choice for projects wanting the performance of low-voltage tungsten-halogen, 50-watt MR16 lamps, the system exceeds performance."
Offering customers the energy savings, long life and sustainability that LED provides, the ML4 system is designed to deliver the optical control, colour quality and punch and sparkle associated with tungsten-halogen sources.
The Halo ML4 Downlighting System is small in size, but powerful in performance, delivering 900 lumens. The round and square trims (TL4 series) are available in open, lens and lens wall wash styles with a choice of narrow flood (25 degrees), flood (40 degrees) and wide flood (55 degrees) optical distribution that can easily be installed/changed in the field. An optional media holder attaches directly to the optic and accepts industry-standard, 2-inch diameter lens, providing additional creative control.
The compact trim assembly installs from below the ceiling into Halo's standard, shallow and ultra-shallow, 4-inch line-voltage housings, as well as other compatible housings. A unique feature, the trims attach to housings magnetically for simple installation, allowing for minor adjustment and accommodating real-world construction tolerances.
The family delivers excellent colour quality, available in 2700 Kelvin (K), 3000K, 3500K and 4000K correlated colour temperatures (CCT), satisfying residential and commercial needs. With a colour rendering index (CRI) of 90 minimum, the LED downlights are Energy Star certified.
Trims are offered in four electroplated designer finishes — brushed nickel, oil-rubbed bronze, brushed copper and German bronze — to complement interior finishes. Select trims include damp and wet location-listed options for showers and outdoor covered spaces and are designed to last 50,000 hours at 70% lumen maintenance.
If plenum space is limited, the series uniquely offers round and square surface-mount housings that install directly to various junction boxes. The housings are available in white and black.
Find out more: http://www.cooperindustries.com/content/public/en/lighting/resources/LightingStories/Halo-ML4.html.