Banvil2000 LED Sign Lights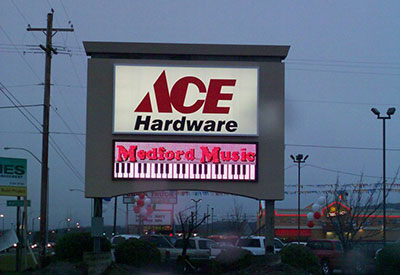 September 7, 2016
Banvil2000's LED Sign Modules have been precisely designed and engineered to exceed performance and longevity of comparable modules on the market. The modules deliver high lumens through a thoroughly unified 160 degree beam angle lens, which maximizes performance by redirecting otherwise wasted light towards the intended illuminated surface. They can be used on new signs or to retrofit and brighten up old signs.
Ideally suited to replace fluorescent technologies, the LED Sign Light series is designed with impressive return on investment and maintenance and energy costs savings.
 The high performance LED lighting system delivers bright, uniform light across a large surface area, allowing sign builders to illuminate their signs using much fewer LED's, reducing overall system costs. When switching from old fluorescent T12 or T8 to advanced LED technology, a payback can be achieved in as little as two years. Realize the advantages of LEDs, including brighter, longer lasting signs, extreme energy efficiency, much lower maintenance and optimal cold weather performance, all of this in one durable, complete money-saving system.
Features and benefits
Bright, uniform light distribution
Specially developed Lens creates a wide viewing angle which helps eliminate wasted light
Design protects components from damage
Continuous wire and IDC connectors for maximum strain relief
Easy installation and assembly, with injected molded screw holes and industrial-grade 3M mounting tape
Long rated 50,000 hour Lifespan
5-year warranty
Works in applications shallow as 1.5 inches
Contains no lead, mercury or glass
Sold in Sets of 100 Modules
Contains no lead, mercury or glass
Specs
Colours: 3000K, 65000K, 12000K, RGB
Available in 3 LEDs per module
Sold in packages of 50 Feet (15.24 meters) with 100 Modules
12VDC system
2 Watts per diode – 2 Modules per Foot – each package is 120 watts.
Each module outputs 120 lumens!
Only 1.2 Watts consumption per foot – realize HUGE savings compared to Fluorescent
Find out more: http://www.banvil2000.com/en/homepage/whats-new/315-led-sign-lights.