Rittal Introduces First UL-Approved Lighting System for Industrial Enclosures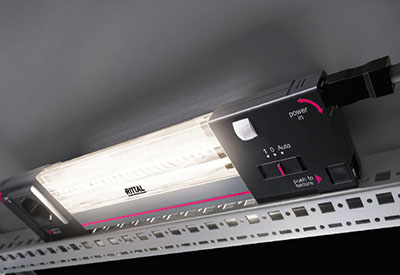 February 16, 2017
Rittal Systems Ltd. has added to its offerings the LED System Light, the first lighting system designed specifically for enclosures.
The innovative LED technology, with UL E76083 certification, shines into every corner of the industrial enclosure, from the roof to the floor. The new light delivers up to three times the luminous flux of the next closest competitor.
"Having the proper light for enclosures is a tremendous advantage for customers," says Slavco Anastasov, Industrial Product Manager for Rittal Corporation. "Proper lighting means the working environment is safer and the work gets done quicker."
Rittal accomplishes this with intelligent lighting tailored to the geometry of the enclosure. Light is dispersed through a special optical cover with Fresnel structure, in two designs for precise lighting. The Fresnel lens uses a prism-like pattern to provide magnified light coverage. The cover rotates easily for adaptive light distribution. With enormous intensity, from 900 to 1200 lumens, the light provides brilliant illumination.
Installation is simple, with the design integrated into the TS 8 Modular Enclosure. Fast, tool-free assembly on a latching hook system uses a 25 mm pitch pattern of holes to simply latch and secure. Optional screw-fastening is also available, or a magnetic attachment to freely position the light anywhere in the enclosure. The light may be fitted horizontally or vertically with no loss of space in the enclosure. Lights with motion detectors are equipped with a rotating LED board as standard, allowing the direction of the light to be perfectly adapted to any installation situation.
Rotating connectors support installation, even in the most confined spaces. With a swivel option, the light direction can be changed to spot-illuminate any part of the enclosure. Through-wiring is plug and play, and it can be additionally equipped with a socket for available electricity wherever it's needed for maintenance work.
The LED System Light matches the footprint of fluorescent lighting on the market, and simplifies specification requirements for the market. It is low maintenance and easy on energy as well. The LED compact lighting is safe, with an extra-low voltage range, suitable for wide range voltage from 100-240 V (AC) and 24 V (DC). It is UL certified.
The newly released LED System Light brings optimum illumination of the entire enclosure. It can be attached with a clip, screw or magnet for a configuration to brighten every application. It installs in just two minutes, and the cable connection rotates a full 90°, not just in one direction.
Find out more: www.rittalenclosures.ca.