Fluorescent Lamp Replacement from Standard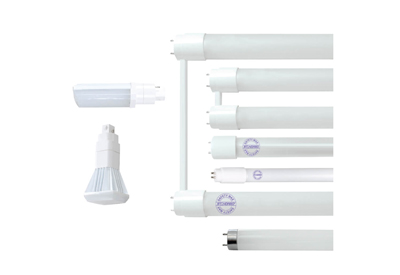 Mar 18, 2018
Increase efficiency by replacing your fluorescent lamps with LED lamps, without changing your existing system. Standard's fluorescent lamp replacement is available in T8, T5 and U-Bend format.
LED tube replacement lamps offer the perfect alternative for fluorescent lamps while minimizing mercury output, as well as eliminating the start-up time as seen with fluorescent lamp equivalents. They also use a fraction of the power, thus significantly reducing relamping costs.
LED T8 lamps are offered in 2, 3 and 4 foot lengths; many are available with a Safety Max coating to protect against shattered glass. These LED tubes have a glass encasing which protects them against tube yellowing and brittleness. They also offer a great light output, a long life of 50,000 hours, and are just as easy to install as fluorescent lamps!
T8 metric lamps: with the same benefits as Standard's LED T8 lamps, these 46″ long T8 Metric lamps are specifically designed for the Canadian market. They fit perfectly in many government building fixtures which make these lamps the ideal retrofit solution.
T5 lamps: Standard has the largest colour temperature offering available on the market (4,000 K – 5,000 K – 6,500 K) for T5 lamps. These lamps also have a wider beam angle than competition (240° vs. 185°) for better light distribution.
U-Bend lamps are available in U1 in 4,000 K colour temperature and in U6 shape in 3,500K and 4,000K. Two wattages are offered for the U6 shape in 4,000K.
There are no wires to replace, no need to change drivers; simply install into a luminaire with an instant start or program start electronic ballast and start saving.
Safety Max Lamps: LED T8, T5 and U-Bend lamps are all available with a Safety Max protective coating made of PET Polyethylene Terephthalate material. This coating is shatterproof which helps contain glass if a lamp is broken. Most of them are NSF rated for food equipment safety. Fluorescent replacement Safety Max lamps are perfect for commercial kitchens or food processing environments, museums, schools and hospitality.
Find out more: www.standardpro.com/featured-product/fluorescent-lamp-replacement/.