ASE DS-2B Rain/Snow Sensor Controller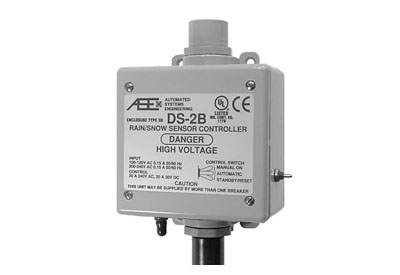 October 17, 2017
The DS-2B is the base model of the DS series. It is primarily designed for small satellite antenna/broadcast tower deicing, pavement snow melting applications, and use as a sensor for larger control systems. The unit may also be used as a stand-alone rain diversion controller for Ku band satellite applications.
An environmentally sealed control switch is provided. The "Manual On" function activates the controlled equipment for testing and special operational conditions. The "Automatic" position allows the DS-2B to handle all detections and control. The "Standby/Reset" position disables triggering and can also be used to clear the delay off timer (see below) from true or test activation. Remote control and monitor up to 1000 feet away is also available when the optional C/M cable listed is installed. The DS-2B is also compatible with the CDP-2 remote control/status panels.
A new feature has been added to the DS-2B. If the switch is placed in "Manual On" for less than 2 seconds, then switched back to "Automatic" the controller will execute one delay off cycle. The delay off cycle is determined by the DEL switch setting and the DEL adjustment, i.e., 2 minutes in "sensor" mode, 30-90 minutes in "controller" mode. This can be used to clear surfaces with a frost or hail buildup without the danger of leaving the system in a continuous "Manual On" condition. "Standby/Reset" can still be used to clear this delay off cycle.