Vertiv Liebert PSI5 Lithium-Ion UPS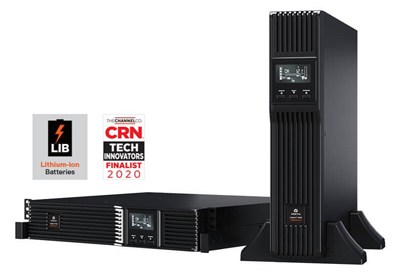 Feb 3, 2021
Lithium batteries are more efficient when it comes to charging and durability. The Liebert PSI5 Lithium-Ion UPS units last twice as long, has faster recharge time, greater power density, and can endure up to 10x more discharge cycles. Compared to traditional valve-regulated-lead-acid batteries lithium-ion batteries have double the life span of up to 10 years. Fewer battery replacements means less expenses accrued over time.
Included with The Liebert PSI5
• UPS Unit
• USB Type A to USB Type B cable 1.8 meter (6ft) in length
• Printed quick start guide with safety instructions
• Adjustable 4 post rack mounting kit
• Support base for tower configuration
• TrellisTM Power Insight (free download)
Full Sequenced Battery Testing
The Liebert® PSI5 UPS includes an automatic and manual self-diagnostic test. This feature automatically alerts you when the internal batteries need replacing, it also provides a comprehensive analysis of the condition of the batteries within the UPS.
Advanced Early Warning of UPS System Status
Audible and visual alarms are available to alert you of any input voltage fluctuation (buck/boost), output overload, low battery or replace battery condition.
Configurable Input Voltage Window
Properly match the UPS to incoming utility power and adjust input window and transfer points to ensure regulated power to connected loads is within the selected range.
Programmable Outlet Group
Extend run time when on battery power by power-cycling connected equipment and shedding less-critical loads.
Go HERE for more information.