nVent RAYCHEM Next Generation XL-Trace Edge Heating Cable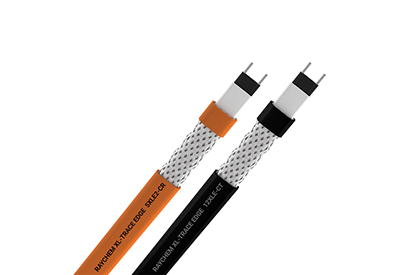 December 5, 2021
nVent Electric plc has launched the nVent RAYCHEM XL-Trace Edge self-regulating heating cable for commercial pipe freeze and grease waste flow maintenance applications. This commercial-grade freeze protection heat tracing cable can run at the highest published maximum operating and exposure temperatures in North America.
The new XL-Trace Edge self-regulating heating cable delivers a higher maximum operating temperature of 154°F (68°C),four degrees higher than the previous generation cable. This exceeds the published maximum operating temperature of competing cables [150°F (65°C)]. The next generation cable also offers an increased maximum exposure temperature of 185°F (85°C), compared to the previous generation cable's maximum exposure temperature of 150°F (65°C). Additionally, the new cable offers longer maximum circuit lengths, which can reduce the total installed cost by decreasing the number of power connections, controllers and components required for larger multi-circuit projects.
"Since the development of the nVent RAYCHEM polymer technology in the 1980s, customers have depended on the XL-Trace self-regulating heating cable for its performance and reliability," said Jonathan Jones, nVent global product management director. "As the world becomes more electric, our industry needs cables that can deliver higher operating and exposure temperatures. The XL-Trace Edge heating cable does both. Beyond reliable performance, it offers cost savings opportunities for operators who need to meet constantly increasing trace heating demands."
The new characteristics of the XL-Trace Edge self-regulating heating cable provide superior performance while lowering total installed costs, making it an excellent choice for new builds or renovations. The XL-Trace Edge heating cable's parallel circuitry allows installers to cut it to the exact length required, with no wasted cable. Its flexibility allows the cable to wrap around complex fittings and valves.
A complete certified system backed by nVent's 10-year extended warranty
The nVent RAYCHEM XL-Trace Edge self-regulating heating cables, connection kits and controllers are manufactured and tested to stringent industry standards and certified by Underwriters Laboratory (UL). nVent's certified solution provides superior performance, reliability and long life, and is backed by a 10-year extended product warranty.
Go HERE for more information