Atkore Utilizes Laser Marking for Conduit Product Labeling in Sanitary and Washdown Environments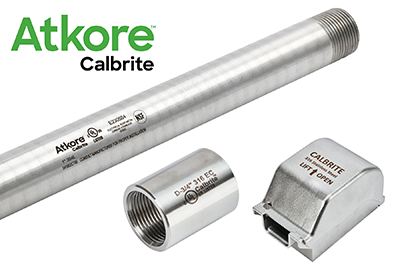 June 8, 2022
Atkore Calbrite has incorporated a comprehensive and custom-designed fiber laser marking process to effectively apply product information and labeling to their stainless-steel conduit and fittings. The fiber laser creates precise, durable markings that avoid fading regardless of time, environments, high temperatures, or repeated abrasions due to harsh cleaning. Fiber lasering offers an improved method of labeling when compared to paper labels, engraving or stamping, which create more harboring points and increase the chance of labels detaching from products.
With critical applications including Food and Beverage facilities, and pharmaceutical processing, Atkore's stainless steel conduit systems stand up to acidic content of cleaning agents and chemical disinfectants in wash-down environments. Fiber laser marking eliminates the chance of peeling labels compromising sanitation grades, bacteria from forming around traditional paper labels or water from collecting during wash-downs.
Fiber laser marking machines are typically used in applications requiring finer and higher precision, and consistently produce a high quality, high contrast marking that is completed without surface texture. Atkore employs state of the art "Smartmark" fiber marking equipment; Class 1, 50-watt systems made to maximize marking and efficiency and minimize energy consumption.
"By incorporating fiber laser marking, we are making every aspect of our conduit suitable for applications interacting with harsher elements or industries with high traceability requirements" says Matt Westerfield, Product Manager at Atkore. "Not only are we producing more robust markings, we're also able to simplify product labeling with a safer and faster component."
Go HERE for more information