Intermatic Introduces New Installer-Focused Pool and Spa Solutions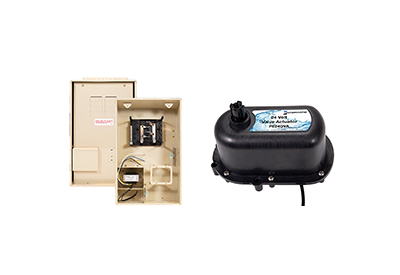 June 23, 2022
Intermatic Incorporated announced its new P40000 Series Load Centers, a set of next-generation panels for pool-only applications, as well as its new PE24GVA 24-Volt Valve Actuator, an easy-to-install valve actuator that allows for tool-free cam adjustments. Both solutions remove obstacles for pool service professionals while delivering lasting performance.
"Intermatic load centers and valve actuators have been the preferred choice of pool professionals for more than 30 years," says Brian Lamberty, product marketing manager at Intermatic. "The PE24GVA and P40000 Series build on that tradition, helping pool professionals streamline service calls while setting the standard for quality and performance."
P40000 Series Load Centers
New P40000R Series Load Centers provide a simple yet robust solution for pool-only applications. These next generation pool panels include additional space for wiring as well as the most versatile busbar design in the business and built-in safety transformer functionality. This allows professionals to connect multiple pieces of pool equipment and an array of low-voltage underwater lights with ease.
Key Features:
Built-in Breaker Base – Built-in 8-pole breaker base suitable for many brands and types of circuit breakers
Additional Space for Wiring – Open space on all sides of the breaker base provides flexibility for installers
Quiet Safety Transformer (Optional) – Newly designed panel with extended transformer cover minimizes audible noise, eliminates the need for a standalone safety transformer.
Code Compliant Design – cULus listed
PE24GVA 24-Volt Valve Actuator
The PE24GVA 24-Volt Valve Actuator simplifies water flow adjustment of two- and three-way diverter valves and allows for tool-free cam adjustments. Easy to install and maintain, the PE24GVA lets pool professionals visually set the valve position in just seconds, ensuring the perfect water flow to match application needs.
Key Features:
Tool-Free Setup – Easily adjust internal cams without need for any tools
Infinite Cam Adjustment – Infinite cam rotation adjustment for precision water flow
Compact Streamlined Design – Traditional actuators can be up to 10% wider
Universal Design – Compatible with all pool and spa valves and controls
Go HERE for more information