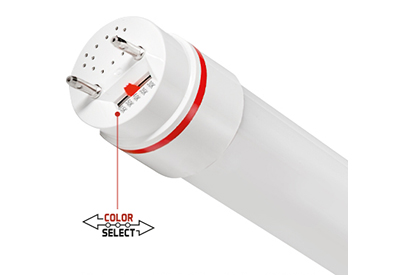 August 4, 2022
Keystone's DirectDrive DX2 is a UL Type B line voltage tube offering single- or double-ended wiring options, allowing you to hold less inventory. In addition, DX2 utilizes both shunted and non-shunted lamp holders, making it an easy LED replacement for T8 fluorescent tubes.
These T8 LED tubes can provide up to 50% more energy savings than standard F32T8 lamps. Since LED tubes have a longer useful lifespan than their fluorescent counterparts, DX2 will also reduce maintenance costs.
These tubes are available in both dedicated color temperature options and with Keystone's Color Select technology. The selectable version allows users to choose from among five color temperatures – 3000K, 3500K, 4000K, 5000K, and 6500K – making this versatile tube an ideal replacement for conventional fluorescent lamp, single- or double-ended line voltage wiring.
Select DirectDrive DX2 tubes are now available in Made in America options. These tubes offer the same single- or double-ended wiring versatility while meeting with BAA and TAA standards.
Benefits of DX2
Reduces inventory via single- or double-ended versatility
Simplifies installation by utilizing either shunted (double-ended only) or non shunted lamp holders
Saves up to 50% more energy than standard F32T8 lamps
Reduces maintenance costs with longer useful lifespan
Product Features
Available with Color Select technology featuring 5 selectable color temperatures: 3000K, 3500K, 4000K, 5000K, and 6500K
Environmentally friendly: no mercury used
Instant startup
Frosted lens eliminates pixelation
Operating temperature: -20°C/-4°F to 45°C/113°F
Integral driver (isolated), eliminates the need for an external driver or ballast
110+ lumens per watt
Improved lamp durability with shatterproof coated glass (optional)
Complies with UL safety regulations for tubes with double-ended wiring
Go HERE for more information