Schneider Electric Introduces Altivar Soft Starter ATS480 for the Canadian Market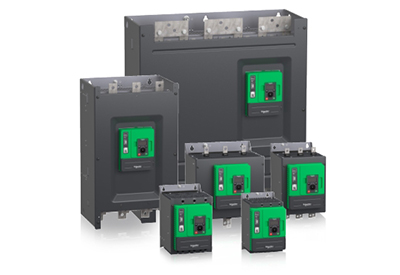 October 26, 2022
Schneider Electric announced the launch of Altivar™ Soft Starter ATS480 (ATS480) for the Canadian market. ATS480 marks the next evolution of soft starters with digitalization in mind. Designed for normal and heavy-duty applications, it simplifies project execution and maximizes the availability of applications even in the most demanding environments.
With ATS480, Schneider Electric completes its service-oriented motor control and protection offer and builds on the proven robustness and success of its predecessor, ATS48. Intended for use in applications such as compressors, conveyors, pumps and fans, centrifugal machines, and more. ATS480 can support processes and infrastructure across several industries, including equipment manufacturing; mining, minerals, and metals; water, and wastewater; oil and gas, and more.
ATS480 combines robust performance, torque control, and simplicity of use to offer several benefits, such as:
Reduced Engineering Time & Cost: Integration of Altivar Soft Starter ATS480 in EcoStruxureTM apps and software for Automation and Power drastically simplifies architecture selection, detailed design, and execution
Secure Operations: Enhanced cybersecurity features built-in to restrict or disable port/services and threat intelligence to generate security-related reports
Operational Reliability & Continuity of Service: Highly robust and reliable even for the most demanding applications or in harsh environments, reduced downtime across operations, and greater flexibility and optimizations when bypassing
Embedded Troubleshooting and Digital Support: Dynamic QR code with a graphic keypad to access the error page of the documentation
Seamless Integration within Schneider Electric's EcoStruxure™ Plant Builder and Control Expert
Easy Implementation in panels with the ability to connect with competitor control systems
"At Schneider Electric, we're always looking to expand our portfolio to provide customers with the solutions they need to meet their energy management and automation needs," said Sanjith Singh, Vice President of Industrial Automation, Schneider Electric Canada. "The introduction of ATS480 builds upon the valuable offerings of ATS48, while equipping users with greater flexibility and continuity of service – a requirement in today's increasingly digital world. This simple solution is an exciting addition to Schneider Electric's integrated automated offering, enabling greater project efficiency and optimized operations."
With the ATS480 offer, the motor command and control values are retained, but the opening to the 4.0 factory is provided with a new control card. While the ATS480 features the same power stage design, supply control and panel implementation as the ATS48, the ATS480 is revamped with a complete and wide offer from 17 to 1,200 Amps and a voltage range from 200 to 690V.
The ATS480 paves the way for the renewal of the Altivar Soft Starter offer to migrate the range of motor controls to digital services for all industry players. In addition, this range complies with environmental requirements with the labels: Green Premium, RoHS, ReacH. The ATS480 is available for purchase through their authorized distributor network, and for more technical information and sales support please visit their product page.
Go HERE for more information