Larson Electronics: We've Got Your Back with Explosion-Proof Lighting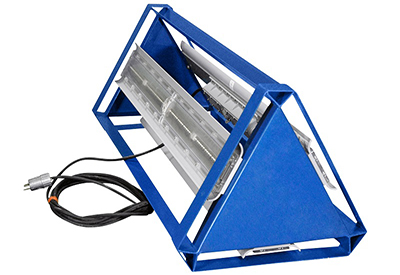 September 14, 2016
Larson Electronics has an array of tank lights that will keep you safe. The line-up includes explosion proof LED lights with magnetic mounts, LED string lights, and portable LED carts and temporary mount LED lights. Larson lights give operators high visibility and quality construction that can be easily customized.
Among the offerings:
1. 4′ explosion proof portable LED flood light system, including a base stand with 3 handles. The EPL-3X100LED-4-HDL-100 is rated Class I Divisions 1 & 2 and uses three 48-inch LED light heads to produce a combined 21,000 lumens of light with 360° coverage while drawing only 300 watts. The system features three built-in d-ring handles on the uprights of the stand for easy transportation and manoeuvring around the work area
2. 50 watt portable explosion proof mini LED Light — C1D1-2 – C2D1-2 • aluminum frame • 120-277V • rated Class I Divisions 1 and 2 Groups C D and Class II Divisions 1 and 2, and uses a 7 inch LED light head to produce 4,333 lumens of light while drawing only 50 watts
3. explosion proof LED tank light • 17,500 lumens LED • wheelbarrow cart • 150′ cord • Class 1 Div 1&2. The unit uses Cree LEDs to produce 17,500 lumens of light while drawing only 150 watts
Find out more about Larson Electronics full range of products: www.larsonelectronics.com/default.aspx.