High-Efficient Dual Channel, Color Tunable LED Troffer Introduced by Earthtronics
June 21, 2023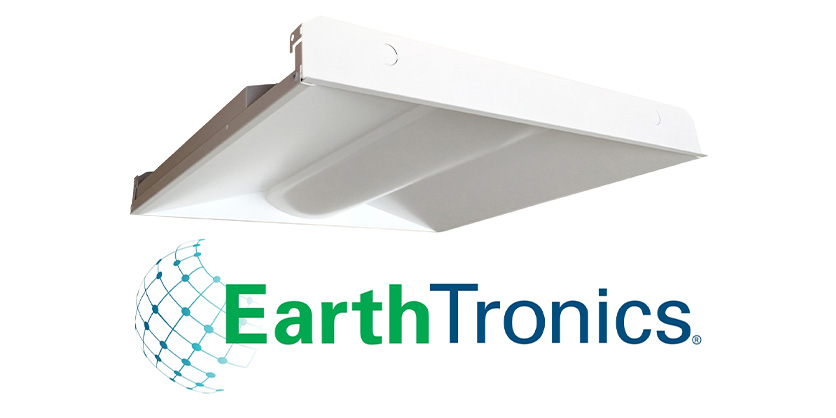 With Architectural Basket Lens Design for New Construction, Renovation and Retrofit Applications
New 2X2 LED Troffer provides smooth white color tuning in a range of 3000K to 5000K, as well as all other control functions
EarthTronics introduces its new contemporary Dual Channel Drive, Color Tunable 2X2 LED Troffer Series for new construction, renovation and retrofit commercial applications. The product features an architectural basket lens design within a slim profile fixture for high performance and easy installation in a 2X2 ceiling grid system.
Color Tunable LED Troffer Features
Designed to easily install in 2'x2' grid ceilings and work seamlessly with EarthConnect Lighting Controls, the dual channel provides smooth white color tuning in a range of 3000K to 5000K with 80+ CRI for excellent visual acuity. EarthConnect provides several functions including flexible zoning and grouping, scene control for lights or groups, and time scheduling for individual fixtures, groups or scenes.
The Dual Channel, Color Tunable LED Troffer efficiently operates at 35 watts, delivering 4400 lumens. Increased energy savings can be achieved by utilizing EarthConnect Network Lighting Controls which provide features such as daylight harvesting, occupancy with timed delay and step dimming functions. Its PMMA lens is designed to provide even light distribution with no discoloration over time.
The 2X2 fixture has a solid-state driver delivers long life with flicker-free operation. It features 120/277V dual voltage operation, and is equipped standard with a 0 – 10-volt continuous dimming driver with a dimming range capability of 10% to 100%.  An optional emergency driver is available to provide 90 minutes of egress lighting in the event of a power failure.  The fixture and accessories are designed to perform in temperatures ranging from 4°F to 122°F.
The product also comes with T-bar hanger clips satisfying earthquake requirements and providing a secure installation. The 2'x2' fixture has a performance life rating of 100,000+ hours (L70). The dual channel troffer is UL listed. 
For more information about the Dual Channel LED Troffer Series, visit https://www.earthtronics.com/product/2×2-led-troffer-dual-channel-driver/.
The Dual Channel, Color Tunable LED Troffer may be accepted for utility rebates in many markets. For more information about the rebate, visit www.earthtronics.com or call (866) 632-7840.
Related Product
EarthTronics introduces its Color and Wattage Selectable UFO LED Highbay Series in two versions, each offering three color temperatures and four wattages with a high 80 CRI to provide optimal lighting for commercial, manufacturing and warehouse facilities.