EarthTronics LED Highbay Series: Color and Wattage Selectable UFO in 2 Bold Versions
March 30, 2023
New energy-efficient LED UFO High Bay can be adjusted in seven wattages and three-color temperature configurations to deliver optimal facility lighting and improved visual acuity
EarthTronics introduces its Color and Wattage Selectable UFO LED Highbay Series in two versions, each offering three color temperatures and four wattages with a high 80 CRI to provide optimal lighting for commercial, manufacturing and warehouse facilities.
Highbay Selectability
Ideal as energy-efficient replacements for up to 1000-watt HID fixtures, the two new Color and Wattage selectable UFO LED Highbay fixtures allow facilities the flexibility of switching among three temperatures (3000K, 4000K and 5000K) at the time of installation and four wattages to ensure improved visual acuity for accuracy in manufacturing and warehouse environments. The Series includes a high-bay fixtures that can be adjusted to 50, 80, 100 and 150 wattages, providing 6750 to 20500 lumens respectively.  A second unit can be set at 150, 180, 200 and 240 wattages, offering 20250 lumens to 32400 lumens. These fixtures deliver exceptional efficiency and operate at 135 lumens per watt.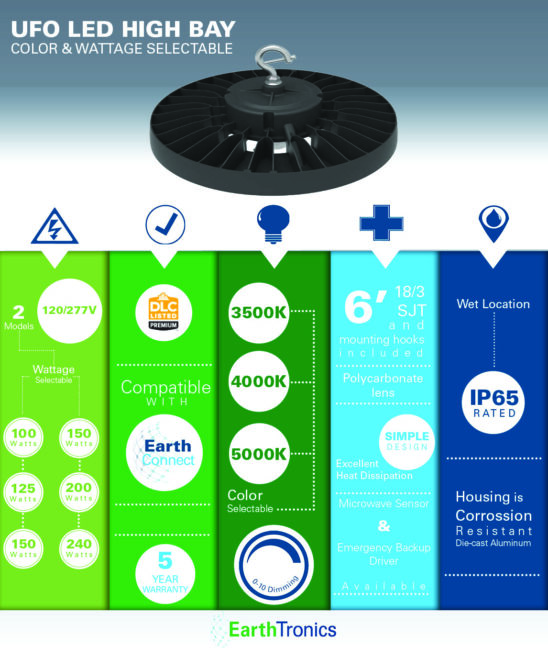 The Color and Wattage Selectable UFO LED Highbay Series operates on 120/277VAC with 0-10V dimming standard. The LED driver is equipped with 12VDC to power optional sensors and EarthConnect Bluetooth mesh systems. The sensor options are easily installed by simply screwing them into the face of the fixture.
With their ultra-thin die-cast aluminum housing, combined with their unique open center ventilated LED array with high quality chips, the UFO LED high bay fixtures allow excellent heat dissipation resulting in high lumen maintenance over their service life. In addition, the fixtures have a powder coat finish, stainless-steel screws and a IK08 polycarbonate lens to ensure a corrosion-resistant operation, enabling an exceptional 50,000-hour performance life.
IP65 rated for wet locations, the Color and Wattage Selectable UFO LED Highbay Series is DLC Premium, UL/CUL listed, and RoHS compliant. It is also NSF listed for food processing installations. The Series is designed to operate at temperatures between -40°C (-4°F) to 55°C (122°F) and comes with a five-year warranty. The fixtures are shipped with a standard 6' 18/3 SJT whip, 0-10v dimming wires and mounting hooks.
The Color and Wattage Selectable UFO LED Highbay Series may be accepted for utility rebates in many markets. Consult the EarthTronics Rebate Finder for current utility incentives at Rebate Finder – Highbay UFO. For more information about the Color and Wattage UFO LED Highbay from EarthTronics, visit https://www.earthtronics.com/product/ufo-highbay-color-watt-selectable-50-80-100-150/ or call (866) 632-7840.