HellermannTyton Introduces ProCut Battery-Powered Cable Tie Cutter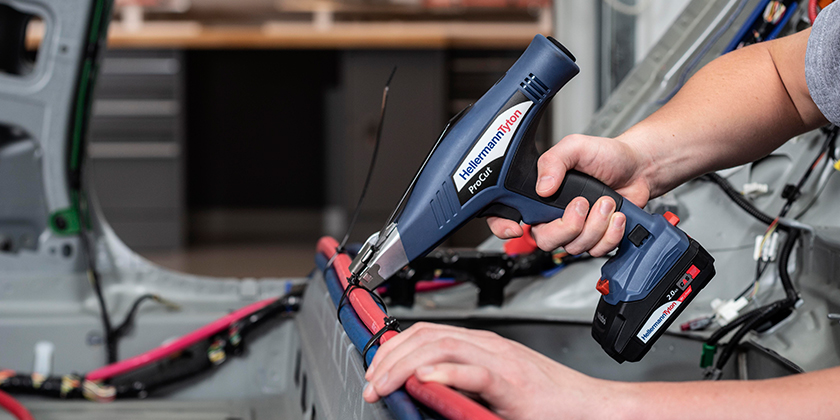 October 30, 2023
HellermannTyton North America announces ProCut, a tool that automatically tensions a cable tie around a bundle at a user-specified force, then trims off the excess. It is the industry's only battery-powered tool dedicated to this process, with the capability to process even heavy duty ties.
Automotive, truck and heavy-equipment wiring and tubing installers have used manual tension-cut tools for decades. HellermannTyton engineers saw an opportunity to further reduce potential operator strain by integrating the same 2.0 mAh Lithium-Ion battery powering the company's CPK Hybrid processing tool into the ProCut. The development team adapted the ergonomics and ability to cut cable ties up to 250 lb from its EVOTM series of hand tools to position the ProCut as a worthy upgrade from manual tools.
"The industry has been looking for a better way to reduce the risk of repetitive strain injuries," said Maureen Janosh, Head of Product Management, "particularly for installations of heavier ties. Our products have always had a focus on operator safety in addition to function. ProCut represents the next generation in that mission."
Unlike manual tools, ProCut's powered activation requires only one trigger pull no matter the desired tension. The user will also notice there is no kickback when the tie is cut. This can significantly reduce hand strain over long-term use. A rear-mounted second trigger comes in handy for those times when the bundle is hard to reach.
Sixteen tension settings enable operators to achieve precise results tie after tie. And auto calibration maintains true, consistent tensioning.
A full battery enables ProCut to process 2,000 HellermannTyton ties ranging from 50 to 250 lb on a single charge.
Go HERE for more information