Milwaukee M18 FORCE LOGIC 11T Dieless Latched Linear Utility Crimper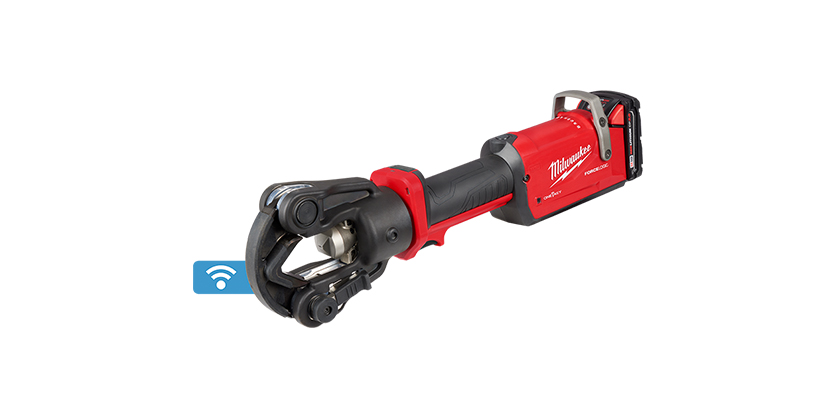 May 11, 2023
Milwaukee Tool introduces the new M18™ FORCE LOGIC™ 11T Dieless Latched Linear Utility Crimper. Providing UL classified and ANSI 119.4-2016 certified connections, this crimper is designed for both overhead and underground distribution to improve productivity and ease of use for the professional. Delivering increased control in application, ensuring full pressure in every crimp, and allowing the fastest dieless crimp times across compatible connector sizes, Milwaukee's new crimper provides professionals the easiest way to crimp utility connectors.  
The M18™ FORCE LOGIC™ 11T Dieless Latched Linear Utility Crimper features the lightest, most balanced inline design to give users maximum application control. Designed with a centered, balanced grip, linemen are provided the flexibility to operate with one hand in multiple orientations while an enlarged trigger and electronic release button allow both left- and right-handed users to easily activate the tool while wearing thick Class 3 gloves without changing hand position. A 340-degree rotating head delivers increased versatility while the quick release and push-to-close style latch pin allows users to easily open or secure with just one touch.
The Milwaukee 11T Dieless Latched Linear Utility Crimper is lighter weight and more ergonomically designed than competitive 11T crimpers, reducing fatigue on the job and improving productivity. 
Designed with Predictive Force Monitoring (PFM™) to deliver the fastest crimping speeds, every crimp is ensured to reach full pressure on every cycle, instantly verified in application by a green LED light, improving user confidence, precision, and efficiency.
Prior to beginning a cycle, the tool automatically conducts a pre-crimp battery check, confirming that the pack has enough energy to complete a full crimp. Featuring a sealed electronic system to keep out dirt and moisture on the job, the crimper's high-speed hydraulic system is optimized for consistent performance from -4°F to 140°F, delivering users with ultimate reliability in all climates and the fastest crimp times across all connector sizes.  
The M18™ FORCE LOGIC™ 11T Dieless Latched Linear Utility Crimper is compatible with ONE KEY, providing users the ability to wirelessly sync their tool with their phone. Time and pressure-based tracking create custom reports for linemen as they upload their tool's history and data while integrated location services and tool security technology allow users to stay up to date on their tools' usage and inventory.  
The new M18™ FORCE LOGIC™ 11T Dieless Latched Linear Utility Crimper is fully compatible with the entire M18™ line, now offering more than 250 power tool solutions. 
Go HERE for more information
Specifications 
M18™ Force Logic™ 11T Dieless Utility Crimper (2876-22)
Style: Dieless Latched Linear
Output Force: 11 Tons
Cycle Time: 4.7 seconds
Length: 21.1"
Height: 6.1"
Weight w/o Battery: 14.3 lbs
Head Rotation: 340°
Full Pressure Indicator: Yes
Adaptive Pressure Control: PFM™
ONE KEY™ Enabled: Yes
Includes: (1) M18™ FORCE LOGIC™ 11T Dieless Latched Linear Utility Crimper (1) M18 2.0 Ah Lithium-Ion Compact Battery (1) M18 XC 5.0 Ah Lithium-Ion Extended Capacity Battery (1) M12 and M18 Multi-Voltage Battery Charger, (1) Contractor Bag 
Related