Seven Cooper Lighting Solutions Products Selected in 2023 IES Progress Report
August 21, 2023
Cooper Lighting Solutions is proud to announce that seven of its products have been selected for the 2023 Illuminating Engineering Society (IES) Progress Report which highlights the most significant developments in the field of lighting.
The 2023 Progress Report is a celebration of groundbreaking strides in the world of Illuminating Engineering, and it's an honor to have our innovations recognized. These products, carefully curated and chosen, represent a leap forward in the realm of lighting design and technology.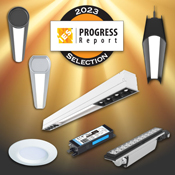 "We're proud to contribute significantly to the advancement of the lighting industry. This accomplishment fuels our passion to continue pushing boundaries, illuminating pathways, and creating a brighter future."
Cooper Lighting Solutions products have been recognized by the IES Progress Report for 13 of the past 15 years, including the seven products that were selected this year:
iO CoviO Graze   Wall washing and grazing fixture with internal driver and eight precise bidirectional optical distributions. Ideal for a wide range of applications.
HALO HLBC Canless Downlight  Slim LED downlight designed with visual comfort in mind. A regressed prismatic lens provides superior glare reduction while maintaining an ultra-thin 1/2″ fixture thickness above the ceiling plane – so it can be installed virtually anywhere, regardless of plenum space. 
Neo-Ray Define Patient (Coming Soon) The ultimate in minimalist simplicity. Provides clean, uniform lines of illumination in virtually any architectural environment. Delivers outstanding efficacy and includes color temperature and intensity options via a simple control.
Neo-Ray Cirque  Direct-indirect light distribution and rounded louvered baffles with Discreet Technology provide superior visual comfort to go along with Cirque's signature circular design. 
Neo-Ray Omni  Form meets function with delightful results in this attractive, contemporary lighting designed with eye comfort in mind. Perfect for hotels, bars, and restaurants.
Corelite Vaulta Open-aperture luminaire with architectural vault aesthetics. Provides seamless illumination with a single-piece roll lens. Discreet glare-reducing louvered baffle options include an indirect batwing optic to maximize ceiling uniformity and on-center spacing. 
Drive Current Z   Automatically calculates drive current. So, users can avoid the engineered-to-order (ETO) process and easily match existing specifications or user requirements to dial-in application performance levels. Available in McGraw-Edison Galleon II and Streetworks Galleon II area and site, roadway fixtures.