Canada's Utilities Seek Closer Ties with Washington on Climate Plan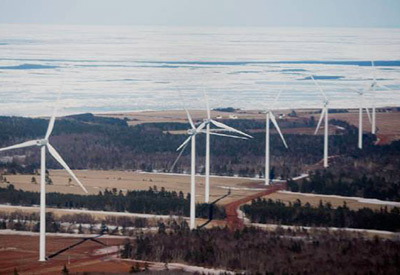 Wind turbines are seen at the Eastern Kings Wind Farm on March 24, 2008 at East Point, Prince Edward Island, Canada. (Photo by Joe Raedle/Getty Images)
A delegation of Canadian industry officials wrapped up a recent lobbying spree by meeting with senior officials from the Department of Energy, Environmental Protection Agency, Federal Energy Regulatory Commission and House and Senate energy committees.
The utility representatives from the Great White North are pressing administration officials and Congress to allow U.S. states to use their resources to comply with EPA's emission rules for power plants.
The emission rules, known as the Clean Power Plan, are at the heart of Obama's legacy project to reduce greenhouse gas emissions and hone a major climate deal in Paris at the end of the year.
Canadian companies want a hand in making that happen by getting U.S. states to import more energy from its northern neighbour. They say that would increase demand for Canada's wind and hydro-electric businesses and help the U.S. comply with the new EPA regulations, which have come under fire for being too stringent and risking regional power shortages.
In addition to EPA's Clean Power Plan, Canadians are concerned about a major energy policy plan that the Obama administration plans to issue at the end of the month.
The plan — known as the Quadrennial Energy Review — would help shape how the U.S. coordinates energy development with other countries in the hemisphere to strengthen energy security and environmental goals, according to officials. It is expected to propose dozens of policy recommendations, including proposals for new legislation.
Originally published in www.washingtonexaminer.com