Halifax to Implement Intelligent LED Street Lighting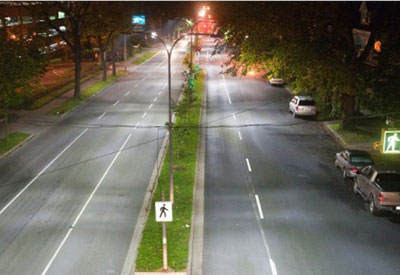 A networking solution provided by Silver Spring Networks, Inc. will connect 43,000 LED luminaires and enable municipalities, utilities, and transportation agencies toimplement intelligent lighting systems that increase energy efficiency, lower operational costs, improve system reliability, and extend equipment lifespans.
Photo 1:  Halifax's Robie Street after being converted to LED streetlights
According to Silver Spring Networks, its open, standards-based solution enables cities to establish a platform for future smart city applications and services including electric vehicle charging, electricity metering, environmental sensors, traffic management, smart parking, water conservation, and many others.
Photo 2: Halifax's Robie Street before the conversion
Converting street lamps from high pressure sodium to LEDs has already begun through smaller conversion projects.
According to the City of Halifax, the LED technology
• offers outstanding operational lifespan of up to 20 years
• cuts energy consumption by 50%
• contains no toxic materials and bulbs are 100% recyclable
• directs light onto the ground and reduces light pollution
• isextremely durable and resistant to shock, vibrations and impacts
• can be dimmed according to lighting needs to save energy and costs
• reduces greenhouse gas emissions
"We all want to live in safe, healthy communities. That includes well-lit streets, roads, and public spaces," says Angus Doyle, project manager for the street light conversion project and Utilities Coordination Manager with the Halifax Regional Municipality. "Silver Spring's adaptive lighting platform offers real-time monitoring of our street lights, which eliminates the need for residents to phone in outages and allows us to better manage maintenance and replace burnt out lights much sooner. It also opens doors for future smart city applications in Halifax, anything from water and electric meter readings to advertising panels and traffic counters."