$Millions Being Invested in Major Refit at NS Power's Lingan 4 Generating Unit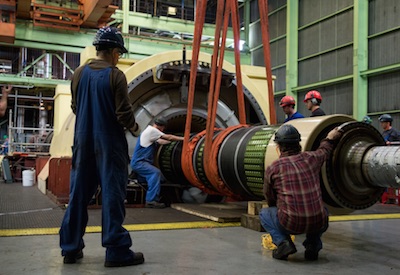 It was a delicate operation despite the fact it involved a 35 tonne piece of equipment. In less than three hours, a key component of a generator in Lingan, NS was slid out of its housing, hoisted up into the air by a 100 tonne crane and placed onto a flatbed truck bound for Wisconsin.
Removing the 30-foot long rotor — the cylindrical core of the generator — and shipping it to Milwaukee to replace the copper wire wrapped around it is part of a $15 million investment underway at Lingan 4 generating unit. "Everything went very smoothly," says Senior Plant Manager Tony Stevens. "We planned carefully for this with the safety of our employees in the plant our top priority throughout this event."
It took 2-1/2 hours to slide the rotor out of the generator, supporting it with straps as it was removed. Once it was on the flatbed, the rotor was carefully wrapped in tarps and plastic to keep it dry and securely strapped into place for the 2,000 kilometre journey. More than 200 employees at the plant will spend the coming eight weeks refurbishing the generating unit. "This is extremely specialized work that involves a great deal of precision," Stevens says. "Our employees here at Lingan truly do have world class skills and they're putting them to work right here in Cape Breton."
Machinist and millwright Barrie Campbell is one of them. The father of three was devastated when the Cape Breton Development Corporation shut down in 2001, leaving him unemployed at the age of 42.
"This work is pretty amazing, it's a lot different from working in a coal mine," said Campbell, who at 57 has been working full time at Lingan for 8 years. He will be involved in stripping apart the turbine and replacing and repairing components of the machine that runs at 3,600 revolutions per minute.
Components must be accurate to within hundredths of a millimetre to prevent damage and ensure the unit runs safely, when it is called on to provide electricity to Nova Scotians.
Though the rotor has been shipped away for refurbishment, regular maintenance is done by the employees at Lingan. "To me that says a whole lot about everybody from the engineers to the machinists. Everyone here works together toward the end game of having safe, reliable units," Campbell says.
Indeed, five of Nova Scotia Power's generating units made top ranking in a national assessment of their performance in 2014 by the Canadian Electrical Association, with Lingan 3 placing first in Canada for being available when it's needed. That happened 99.91% of the time.
Though a record 26.6% of electricity was generated from renewable sources in Nova Scotia in 2015, thermal plants such as Lingan 4 provide a reliable source of energy and continue to be a vital part of providing electricity to Nova Scotia families and businesses.
Photo courtesy of NS Power.