Summerside, PEI: North America's Leader in Wind Integration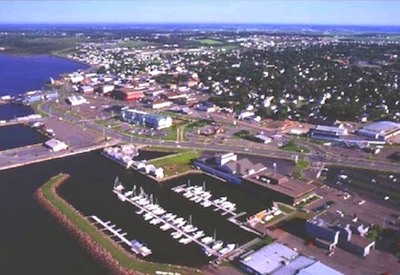 July 29, 2016
Adding a smart grid to store energy has enabled the community of Summerside, PEI to draw 46% of its energy needs from wind power, reports the Huffington Post.
Less than a decade ago, write journalists David Dodge and Dylan Thompson, Summerside was running diesel generators 24/7 to meet the demand for power. To reduce its reliance on diesel power, Summerside built its own 12-megawatt wind farm and contracted 9 more megawatts of wind power from another PEI source.
To ensure a steady supply of power, the community introduced a "Heat for Less Now" program, which uses special furnaces and water heaters in 30% of local homes and businesses to store energy as heat. The appliances are connected to Summerside's smart grid, and store energy when wind generates more energy than the city needs.
Homeowners who purchase these energy-storing appliances pay five cents less per kilowatt hour than the market rate for electricity, for five years. With a population of 15,000, Summerside runs the program with only 314 energy-storing appliances connected to the grid.
The electric thermal storage home furnaces use electric-powered heat pumps that operate with between 150 and 300% efficiency to produce heat for the home. The units also produce extra heat when the wind is blowing and store that heat in ceramic bricks for later use.
The heaters can store energy as heat for up to three days, allowing Summerside to use its smart grid to run the heaters when the wind is blowing, saving that heat for use by the homeowner when it's needed. The water heaters are super insulated, allowing water to be heated to 77 degrees C under the control of Summerside's smart grid. The water heaters lose only one-quarter of a degree per hour and have mixing valves on top to mix the super hot water with cold water to ensure the home gets hot water that's not too hot to use, about 60 degrees C.
Read the entire article: http://www.huffingtonpost.ca/david-dodge/summerside-pei-wind-power_b_11117360.html.