Manufacturers Automation Inc., Awarded Outstanding Distributor Achievement Award for 2017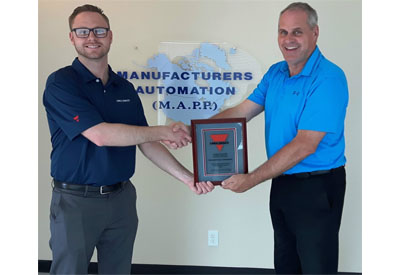 June 20, 2017
Manufacturers Automation Inc., has been awarded the "Outstanding Distributor Achievement Award for 2017" by Carlo Gavazzi Inc.
Presenting the award to Brent Raynor, President of Manufacturers Automation Inc. (on the right), is Wes Otten, Area Sales Manager for Carlo Gavazzi (Cdn) Inc., (on the left).
Manufacturers Automation Inc. is an Electronic and Electrical Distributor covering the North American Industrial Marketplace for the past 35 years.
Carlo Gavazzi is an international group active in designing, manufacturing and marketing electronic equipment. The Group's Products includes sensors, monitoring relays, timers, energy management systems, solid state-relays, safety devices and fieldbus systems that provides automation solutions for the global markets of industrial and building automation.
For more information please contact:
Manufacturers Automation Inc.
John Raynor
eMail: john@manuauto.com
Web Site: www.manuauto.com