May 8: 4S COR Breakfast Seminar for ECAO Members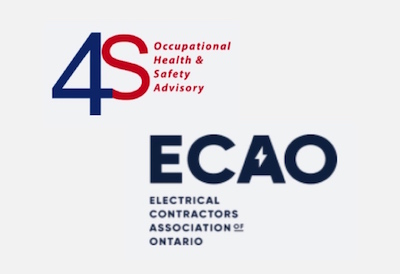 Apr 21, 2019
The Electrical Contractors Association of Ontario has partnered with 4S Consulting to support ECAO members in the areas of workplace safety and COR certification. 4S Consulting (4S) are experienced COR consultants/associate external COR auditors of the IHSA.
COR is a standard endorsed by participating members of the Canadian Federation of Construction Safety Associations. It provides employers with an effective tool to assess their existing health and safety management system. COR is fast becoming a mandatory requirement for bidding on projects of most municipalities and organizations.
In Ontario, COR has become a pre-requisite for many top organizations. These include Metrolinx, GTAA, TTC, York Region, Infrastructure Ontario, City of Brampton, City of Milton, and City of Toronto. In 2017, the York Region made COR mandatory for bidding for any project in excess of $150,000.
During the seminar, participants can learn more about getting COR certified in Ontario, listen to 4S can share experiences with regard to the COR journey of its electrical contractor COR clients from Ontario, get vital tips on simplifying what looks like a complex process to achieve COR in Ontario, and more.