Thermon Releases of Genesis Network Heat Trace Systems Software Version 1.1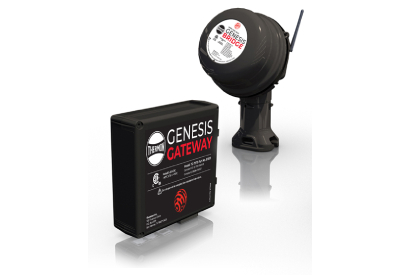 February 25, 2022
The Genesis Network delivers full operational awareness and supervisory control over heat trace systems consisting of Thermon and third party products. The Genesis Network connects all heat trace controllers via wireless mesh communications or wired ethernet to the control room. In the control room, alarms and performance history are logged and displayed to operators, maintenance teams, and management via a user-friendly browser-based interface accessible from any PC or tablet. The platform also offers rich reporting features through an optional Power BI integration.Genesis Network software consists of Genesis Server software and all firmware packages for the various Genesis network devices. Software is installed on the server and firmware for the various Genesis Network devices is pushed with an over the air update.
Genesis Network Version 1.1 new features:
Support for nVent NGC40
Support for nVent T2000
Enabled over the air updates allowing network hardware to update without physical access
Allow multiple backhauls per gateway improving network performance
Network neighbor reports to USB. Each network device has the ability to show all devices that are connected to facilitate a more robust network
Long loop mode allows the connection of Modbus loops with multiple controllers in a single loop facilitating legacy installations
Multi payloads reducing mesh traffic by 60%
Genesis Network issues resolved from version 1.0:
Various display issues in Network Management screen
Resolved a potential null reference exception.
Updated Firmware version Display issue.
Updated Firmware version Display issue.
Fixed Modal positioning bug in UI.
Improved installer and configurator making installation and commissioning more seamless
Stability improvements
Added 'minutes' default units to the Startup Delay setting
Fixed an issue in the Database migrations where a failure would occur when run against some existing installations
With the Genesis Network platform, Thermon is committed to releasing new features several times per year which offer enhancements to existing installations. If your operation has specific needs, please reach out to your local Sales Representative to request new features or enhancements. You can contact Thermon for more information.
Go HERE for more information