Ontario Local Partners With Area First Nations on Pre-Apprenticeship Program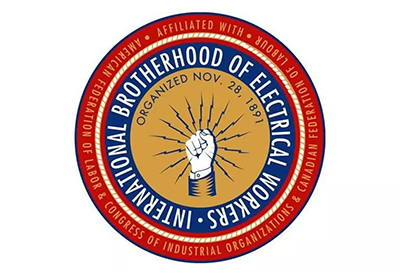 August 19, 2022
In an effort to increase Indigenous youth membership, London, Ontario, Local 120 recently launched a pre-apprenticeship program in partnership with area First Nations groups.
The program, which began in April, is headed by Chippewas of the Thames First Nation and works in partnership with Local 120 to help Indigenous young people gain technical skills and certifications, as well as find employment in the skilled trades.
"This program offers an opportunity that the young people in Indigenous communities rarely have," said Jason Martincich, the lead instructor for the program. "By completing the trainings and certificates awarded, not only does it build skills, it also builds confidence that supports mental well-being with a sense of accomplishment."
Local 120 Training Coordinator Brad Gard says that local leaders were looking to get more involved in the community and, based on their first meetings with Chippewas of the Thames First Nation, they agreed on a partnership.
"Our hope is that this will provide interest in the trades, especially electrical, and provide better Indigenous representation in the IBEW," Gard said. "We want these young people to become mentors to the upcoming youth and future generations."
Funded through the Ministry of Labour, Training and Skills Development, the program is open to Indigenous people in London and surrounding First Nations — Munsee-Delaware, Oneida Nation of the Thames and Chippewas of the Thames — who are between the ages of 18 and 30.
About 150 students participate in the first of the program's three stages, where 12 students each week learn skills like first aid, résumé writing, interview preparation and diversity training. The second stage is limited to 100 of those participants and offers training on a construction site. The final stage is reserved for 50 students who will gain transferable skills to work in any trade. From there, up to five participants are selected to complete paid apprenticeships.
"This program is important on so many levels. Already we have seen many youths — 73 to date — complete Stage 1, and the feedback coming in is that they have increased confidence. They want to attend every day and are enjoying themselves," said Meaghan MacLeod, the program's project manager.
Participants also have access to support, including free transportation and lunch and a wage subsidy of $120 a day.
"The supports are of the utmost importance because many of these youths would not be able to participate otherwise," Gard said. "The burdens faced by many of these students are invisible to most people, from violence and abuse in the home to lack of transportation and food security."
While the skills learned are common to most apprenticeships, one part that's different is the cultural component. Every Monday of every new class they start with a smudge, or cleansing ritual, the language and a hand drum song provided by one of the student advisors from Chippewas of the Thames First Nation.
"Rebuilding the bridges between education and culture is imperative as we provide a culturally sensitive environment for the youth at our union hall," Martincich said. "It's important that we recognize that many of these youths have been forced away from their cultural heritage. By learning about their culture and developing this program to enhance it, we feel we can bridge the gap between our communities for everyone's benefit."
Gard and Martincich noted that, as far as they know, the program is the first of its kind in the province, but hopefully not the last.
"For any other locals that may be interested, I recommend reaching out to local Indigenous communities to see what interest level there is," Gard said. "Then develop a partnership with them and seek government funding to get the program up and running. We'd be happy to be a resource."